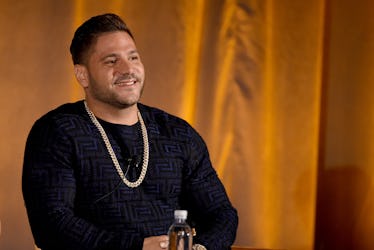 Ronnie Magro's Baby Was Born, So There's A New Little Fist-Pumper In The Family
Kevin Winter/Getty Images Entertainment/Getty Images
You know someone is meant for reality TV fame when their child's birth perfectly times with the return of the series they're most famous for. Case in point: Jersey Shore star Ronnie Magro's baby was born days before the premiere of reboot series Jersey Shore Family Vacation. Talk about perfect timing! Does this mean we could get an exclusive look at Baby Magro on a live reunion special at the end of the Family Vacation season?
Romper reports that Ronnie's girlfriend Jen Harley welcomed their baby daughter this week following rumors that Ronnie's absence from the London premiere of Jersey Shore Family Vacation meant that the baby was on its way. As a source reportedly told Page Six, Ronnie was en route to London when Jen went into labor and had to immediately return home once his flight landed in the UK. The source revealed:
Halfway through the flight this weekend, he found out his pregnant girlfriend Jen Harley's water broke. The second he landed in London he turned right back around to his home in Vegas to be with her. The cast was so excited... they were hugging him at the gate.
Speculation about the impending birth was essentially confirmed when Jen took to Instagram Stories on Monday night and revealed she was in the hospital. Hitting fans with terms that called up every memory I have of old 16 and Pregnant episodes, Jen mentioned that she was waiting for an epidural and pitocin, which helps move along labor contractions. While waiting for Ronnie to come home, she also had her two best friends to keep her company. In one Story, Jen's friend joked, "You're welcome, Ron! [I'm] being the best fill-in I can be!"
Known for his on-and-off relationship with castmate Sammi "Sweetheart" Giancola on Jersey Shore, Ronnie followed up his MTV appearances with a 2017 stint on the show Famously Single. Although he briefly dated co-star Malika Haqq after filming Famously Single, Ronnie soon got together with Jen, whose pregnancy was announced in December 2017.
Confirming the pregnancy to Us Weekly, Ronnie joked that "every guy wants a boy," but that growing up with sisters made him feel "used to being around girls." Now that his baby girl has arrived, I can totally see Ronnie becoming a total mush when it comes to her well-being.
When promoting Jersey Shore Family Vacation before his daughter arrived, Ronnie teased to Entertainment Tonight that marriage to Jen may be on the horizon but that proposing isn't one of his priorities right now:
One step at a time. The next ring I'm gonna buy her is a teething ring. I feel like marriage is a big pressure on some people... It's like, if I love you, you love me, let's enjoy our lives.
Ronnie now joins a growing club of parents among the Jersey Shore cast. Best friends Nicole "Snooki" Polizzi and Jenni "JWOWW" Farley each have two children, while Pauly DelVecchio is a single father of a young daughter. I'm expecting plenty of Jersey Shore playdates in the next few years and, TBH, I wouldn't complain about a Jersey Shore: Next Generation series in 20 years. The original cast members are totally going to be those parents that hit the club with their grown kids, right?
As of Tuesday afternoon, the baby's name and size hasn't been announced, but I'm sure we'll hear more about this new little fist-pumper soon. Congratulations to Ronnie and Jen! I can't wait to see your inevitable photos of Baby Magro hitting the beach this summer.
Jersey Shore Family Vacation premieres on Thursday, April 5, at 8 p.m. ET on MTV.