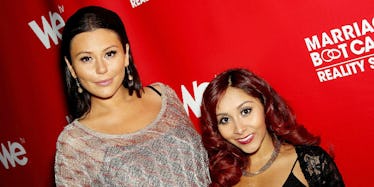 JWoww And Snooki's Dream 'Jersey Shore' Reunion Involves 'Ripping Shots'
REX/Shutterstock
Get your Jersey hair poufs and some pickles on deck, because JWoww and Snooki are ready for a "Jersey Shore" reunion.
Nicole "Snooki" Polizzi and Jenni "JWoww" Farley may finally be ready to return to the shore.
The close friends recently took a trip down memory lane and visited the house where the show was filmed and first aired on MTV seven years ago.
JWoww admitted to bringing a lot of Lysol, while Snooki added,
I washed my kids like five times when they got home because you just know how dirty that house used to be.
Despite how "dirty" they were in the house, the reality TV stars are still grateful for what the show has given them. Snooki said of her time in the Dirty Jerz,
I think it was cute to show them where we met their daddies and our husbands, so I think it was a cool experience.
The stars of  go90's "Snooki & JWoww: Moms with Attitude" even told People when they would come clean and tell their children just what went down on the shore.
Snooki thinks she'll tell her children when they're around 10 or 11. She admitted,
I don't care anymore. I mean, it's going to happen. It's inevitable. So when they watch it, I'll just be like don't do what mommy did. This is an example of what not to do.
JWoww likened it more to learning about Santa, saying,
I don't know what age is going to be the appropriate age because younger and younger people are learning about Santa, people are learning about their parents' behavior.
But to be fair, aren't we all really, really, really lucky we didn't have camera crews following us around in our early 20s? I'm still thankful, and I am so, so old.
When talk of a true reunion series of "Jersey Shore" came up, both stars said they hope it does happen.
Snooki revealed that her ideal situation would be getting the cast together for one week, but not going to the Shore. She cited her children as her reason not to be able to do the Shore for any more than a week.
But she did think a month in just a house might work, probably without a smush room:
I would do like a month with everybody in the house, just us and seeing if we matured.
And just like old times, the two friends realized... nah, they probably weren't going to mature. JWoww said,
We didn't. There's no way.
And Snooki responded,
We probably would rip shots.
Please, please, please let this reunion happen.
Citations: Snooki and JWoww Describe Their Ideal Jersey Shore Reunion: 'We Probably Would Rip Shots' (People)