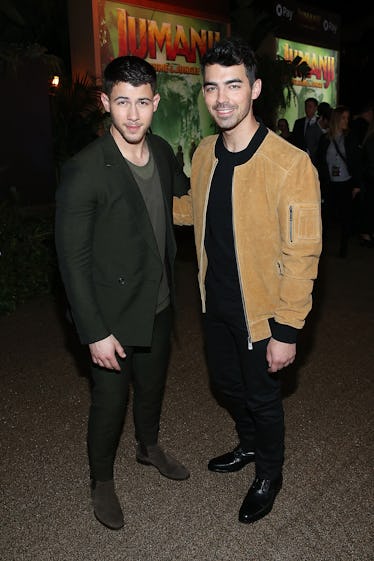 Joe Jonas Wrote The Best Tweet About Nick Jonas' Engagement To Priyanka Chopra
Phillip Faraone/Getty Images Entertainment/Getty Images
In case your phone blowing up with tons of push notifications wasn't a giveaway, Priyanka Chopra and Nick Jonas are engaged (!!!). And the reactions have been pouring out by the masses on Twitter. But TBH, Joe Jonas' reaction to Priyanka Chopra and Nick Jonas' engagement is by far the best one yet.
After more than a month of speculation, the couple finally confirmed their engagement through matching Instagram posts on Saturday, Aug. 18, and the reactions have been combinations of both shook and excited. Jonas shared the picture first, which shows him and Chopra gazing intimately into each other's eyes, and he captioned the shot, "Future Mrs. Jonas. My heart. My love."
Chopra shared the same image about an hour after her fiancé's post (OMG I love how that sounds! Her fiancé *swoons*), where she's shown flaunting off her gorgeous sparkler. She wrote, "Taken.. With all my heart and soul.." The image is so sweet and heartwarming that literally everyone has posted it to their social media, including Joe Jonas. He shared the image on his Twitter along with a super cute caption that'll make you so proud.
Jonas wrote, "I couldn't be happier for my brother. Welcome to the family [Priyanka Chopra.] We love you."
I thought I couldn't be more moved after the engagement announcement, but there's truly nothing as sweet as seeing the Jonas fam welcome Chopra into their family with such open arms. She and Nick have been pretty inseparable over the past few months — spotted out at events like a Los Angeles Dodgers game, the Beauty and the Beast Live concert at the Hollywood Bowl, and Nick's cousin's wedding back in June — so it's really great to see the fam returning the love.
I can't stop gushing over this super romantic photo of Nick and Chopra, either. The picture was apparently taken at the pair's official engagement party in Mumbai, India, where it was previously reported that the couple's parents would finally meet. Judging by the photos the Quantico actress posted to Instagram, the in-laws appeared to hit it off great. And the ceremony looked absolutely perfect.
Chopra captioned the slideshow:
The only way to do this... with Family and God. Thank you all for your wishes and blessings 🙏🏼♥️🎉
The party came just a month after the duo got engaged, on July 18 — Chopra's 36th birthday. The couple was vacationing together in London at the time, when Nick reportedly proposed with a ring he got from Tiffany's in a "private and romantic" setting. In case that doesn't tug on your heartstrings enough, get this: he allegedly shut down the entire store to find his gal the perfect sparkler ahead of their trip. Clearly, there's no shortage of romance when it comes to these two.
There's no word on when they'll officially tie the knot just yet, but considering how their love connection has played out in the public so far, you can guess that it won't be anything short of magical.