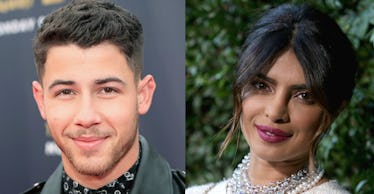 Nick Jonas & Priyanka Chopra Are Reportedly Making A Major Move At Their Engagement Party
Christopher Polk/Rich Fury/Getty Images
They say that everything comes in threes, and Nick Jonas and Priyanka Chopra are the third celebrity couple to get engaged in 2018 after just a few months of dating. Ariana Grande and Pete Davidson were the first, then it was Justin Bieber and Hailey Baldwin, then finally, it was the youngest Jo Bro and the Quantico star. When you get engaged so fast, I imagine lots of typical relationship milestones get skipped (because there's literally no time to reach them), so that would explain why this couple's families haven't met yet. Nick Jonas and Priyanka Chopra's reported engagement party details, however, reveal that the Jonas and Chopra families are finally set to meet, and it's apparently happening this weekend! Elite Daily reached out to Jonas and Chopra's teams for comment on this report, but did not hear back by the time of publication.
Chopra is currently in Mumbai filming a movie called The Sky Is Pink. The reported plan for their engagement party, according to The Daily Mail, is for the Jonas family, Chopra family, and selected friends to all meet in Mumbai. PEOPLE previously reported that the families were set to meet each other for the first time in Mumbai, but Daily Mail's source is who revealed that the trip will reportedly also include an engagement party.
The source told The Daily Mail that Chopra has reportedly been getting in touch with friends and family asking them to keep Aug. 18 free on their calendars. "Priyanka has sent out messages to close friends and family members to set aside time on Aug. 18 for a party," the source said, adding, "It's exactly a month after her birthday and those close to the Quantico actress feel that she may make an official announcement about her relationship status at the bash."
A source told PEOPLE that the Jonas family is traveling to meet their future in-laws in Mumbai this week. "He and his family are going to India to meet her family," they said. This, paired with the speculation from Daily Mail's source that the get together this weekend will actually be an engagement party, makes it sound like it's going to be a big weekend for Jonas and Chopra. Perhaps they'll go public with their engagement afterward? *Crosses fingers aggressively*.
They kind of did reportedly go public with their engagement recently, but it was so low-key, it'd be easy to miss. According to an eyewitness at a launch party for Nick Jonas' new John Varvatos fragrance on Aug. 8, someone went up to him and apparently congratulated him on his engagement to Chopra (who wasn't at the event). Jonas, according to Us Weekly, responded with a simple "Thanks, man." So... that seems to be that! Elite Daily reached out to Jonas and Chopra's teams for comment on this report at the time, but did not hear back by the time of publication.
Jonas reportedly proposed to Chopra on her 36th birthday on July 18. The couple was in London at the time, and Jonas apparently proposed with a ring from Tiffany's. Hopefully she'll flaunt that ring publicly at their reported engagement party this weekend.