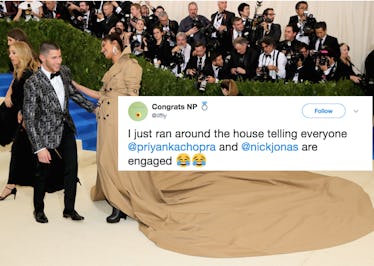 Twitter Can't Contain Its Excitement For Priyanka Chopra & Nick Jonas' Engagement
Neilson Barnard/Getty Images Entertainment/Getty Images
If you've been waiting a while for Priyanka Chopra and Nick Jonas to finally confirm their engagement, then Saturday, Aug. 18 will be a date to remember for you. The couple finally confirmed their engagement, and these tweets about Priyanka Chopra and Nick Jonas' engagement show that fans are very excited for the newly engaged couple. The couple shared matching Instagram posts on Saturday morning from their engagement party in Mumbia, India, per The Indian Express.
Jonas shared the first one of him and Chopra looking lovingly into each other's eyes, and he wrote, "Future Mrs. Jonas. My heart. My love." Seriously, these two pull off the so-in-love look very easily, and the photo is so adorable that Chopra shared the same one just an hour after Jonas posted his. Showing off her gorgeous engagement ring in the pic, Chopra captioned it, "Taken.. With all my heart and soul.."
Chopra also posted pictures of their roka ceremony, which is an engagement ceremony ahead of Indian weddings that indicates the the coming together of the bride and groom's family and friends, per The Sun. She captioned the roka pictures,
The only way to do this... with Family and God. Thank you all for your wishes and blessings
Needless to say, the confirmation of this rumored engagement was enough for people on Twitter to celebrate the news in a big way.
Of course, people began to wonder if Chopra's now-royal BFF Meghan Markle, Duchess of Sussex, would attend the nuptials with her new husband, Prince Harry, Duke of Sussex.
While it may seem like a random pairing, people are still very much here for this couple.
Twitter is seriously filled with all the love for this couple.
People could even overlook their childhood crushes to stan this newly engaged couple.
It's not only the fans that are totally here for this engagement. The couple's loved ones also appear to be over the moon for these two during what is likely one of the happiest times in their lives. I mean, just take another look at that matching Insta the engaged couple shared — there's no way that wasn't one of the top moments in their lives.
Fellow Jo-Bro (and actual brother) Joe Jonas shared his well wishes for the couple on the 'Gram, too. He shared what's likely to become an iconic photo of the beautiful couple, and he captioned it,
I couldn't be happier for my brother. Welcome to the family @priyankachopra We love you 🤗
Honestly, I could look at that picture all day, so I am not at all mad that Joe chose it as his photo to welcome Priyanka to the fam and share his well wishes for his baby bro.
Of course, there are some broken teenage hearts who might be sending out an "S.O.S." after learning of the official engagement news, but Twitter can mostly see that these two are made for each other. Here's to looking forward to the wedding photos of this hot AF couple. Congrats!