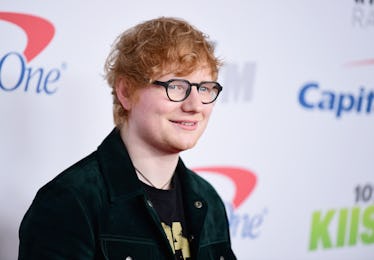 Ed Sheeran Is Engaged To Cherry Seaborn & We're Swooning So Hard
Emma McIntyre/Getty Images Entertainment/Getty Images
Ed Sheeran is the adorable pop star with soul-crushing love songs that we all know by heart. From "Perfect" to "Shape of You," he is the reason we all know the true meaning behind romance and heartbreak. But lately, we're most excited about his latest news relating to his longtime girlfriend, which is bound to break hearts everywhere. Ed Sheeran and Cherry Seaborn are engaged, and we are beyond ecstatic for them.
In case you're wondering how Cherry Seaborn and Ed met, I'll give you the lowdown. They actually knew each other since childhood, but only started dating almost three years ago (so cute). After the two Brits both graduated from Thomas Mills High School in Suffolk, England, Cherry went off to college at Duke University in North Carolina. However, they eventually reconnected through a friend while Ed was touring and she was working in New York City. Although the couple initially kept their love a secret, news of their relationship surfaced when someone Instagrammed the two of them at a party at Taylor Swift's house. And ever since then, we've been totally obsessed with the two of them, because how could we not be?
So after around three years of being in the cutest relationship ever, Ed broke hearts by publicizing his engagement on Instagram on Jan. 20. Along with a super cute and adorably retro polaroid of the couple cuddling and kissing, the singer-songwriter wrote,
Got myself a fiancé just before new year. We are very happy and in love, and our cats are chuffed as well xx
Um, okay, so my heart has totally and completely melted into a giant puddle; can someone please help me clean this up? We seriously can't with the two of them, because their level of adorable has skyrocketed way off the charts.
On Ellen's Show Me More Show in Dec. 2017, Ed gave a few cutesy details about his loving relationship with Cherry, giving us the scoop on two cats they have raised together. Cherry, Ed and their two cats honestly embody all of our #relationshipgoals, and there is seriously no denying that they're couple of the year. He said,
She's really cool. We have two cats [Calipo and Dorito] but they're both really, really strange creatures. They kind of sit up like humans. It's really strange. You'll walk in and they'll be looking at you.
In addition to his engagement, fans were also pretty excited when Ed made an appearance in T-Swift's latest amazing hit music video for her song "End Game," which officially came out earlier in January. In addition to providing Swift with his signature heart-melting voice, Ed is shown traveling around Tokyo and London. Providing us with his charming personality is really all we need in this world, so we were all super happy about his fantastic collaboration with Taylor Swift. Beyond his charm and voice, we just kinda loved his general presence in her music video.
Additionally, Ed has also been totally crushing it with his music in the past year. Making it as the most streamed artist on Spotify in 2017, according to Spotify's Year In Review, his super popular song, "Shape of You," became Spotify's number one streamed track of all time, racking in over 1.4 billion streams. Ed, you are not only killin' it in the game of love, but also in the music industry, and we are beyond excited about all of your amazing accomplishments in the past year. We couldn't be happier that you and your adorable red hair are slaying it at life, and we can't wait to see what'll come next in the future.
Check out the entire Gen Why series and other videos on Facebook and the Bustle app across Apple TV, Roku, and Amazon Fire TV.