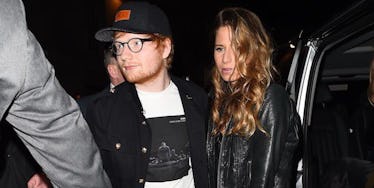 Who Is Ed Sheeran's Girlfriend? What We Know About Cherry Seaborn
REX/shutterstock
Ed Sheeran is slated to perform at the Billboard Music Awards on Sunday, May 21.
As with any award show, we're all excited to see the fashion, the performances, who takes home the top prizes (Adele and Beyoncé are both up for Top Artist) and, of course, which couples show up.
I mean, let's not forget Taylor Swift and Calvin Harris got their PDA on at the 2015 Billboard Music Awards. That feels like forever ago, no?
Anyway, back to 2017.
Ed Sheeran is having a pretty solid year so far. In March, he dropped his third studio album, Divide, which debuted at number one on the Billboard 200 album's chart, and this month, he embarked on his world tour.
In addition to his music success, though, the 26-year-old has recently gotten super open about his love life -- which appears to be soaring as well.
So ahead of this weekend's award show, where we all hope to see Sheeran walk the red carpet alongside his girlfriend, Cherry Seaborn, it's a good time to get to know the woman who has stolen the "Shape of You" singer's heart.
Here's everything we know about Cherry Seaborn so far.
Ed and Cherry, 25, met in high school, but only started dating two years ago.
The pair attended Thomas Mills High School in Suffolk, England, but after she graduated, Cherry moved to North Carolina to attend Duke University. They reconnected through a mutual friend while he was on tour and she was living and working in NYC.
The couple kept their relationship secret for a year, until someone Instagrammed them celebrating their anniversary at Taylor Swift's Fourth of July party.
After quitting her job in NYC, Cherry took a year off to travel around with Ed.
In an interview with Zane Lowe, Ed said his decision to take a break from everything -- social media, his phone and work -- was inspired by Cherry. He said,
The catalyst of taking a year off was also the fact that my partner quit her job in New York -- which she's now got back in London, which really cool -- but we were just basically like, let's quit our jobs and have a year of forming a tight bond. So we went traveling and spent every day for a year together.
Cherry played field hockey in college and signed a contract to play for Wimbledon Hockey Club in London last year.
She also works as a financial consultant. In his March cover story with Rolling Stone, Ed revealed,
She's the nicest girl you'll ever meet, but on the field she's a fucking animal.
"Perfect," which was the first song he wrote on Divide, was written for Cherry.
The singer told Us Weekly,
The line that goes, 'Barefoot on the grass, listening to our favorite song' was about when we were in Ibiza listening to Future's March Madness literally not wearing any shoes and going mental on the lawn, which was quite a nice time. I didn't see her first reaction to the song because she lived in New York at the time. So I just emailed it to her but she did really like it.
Cherry and Ed live together in London with their cats.
In a video interview earlier this year, Ed explained,
That side of my life is meant to be the part that chills you out and it definitely is. [Cherry] just sends me videos of our cats and I'll finish interviews and go and watch videos of our cats playing...
Ed and Cherry are serious and definitely talk about starting a family.
He told Rolling Stone,
One day this will fucking end. And I know the one person that's going to remain constant is Cherry. I should just enjoy this while it's there, but not let it become my reality. Because that's not the reality I want to live in.
As far as being a father, he told Zayn Lowe,
I wanted to be a dad, like, last year. I'm ready, let's go -- tour bus babies, little fat, chubby babies that just walk around.
OK, these two are adorable. Please, please, please walk the red carpet together on Sunday. I want official couple pics before you start that tour bus family!
Citations: Ed Sheeran: Up All Night With Pop's Hardcore Troubadour (Rolling Stone), Ed Sheeran on 'Falling in Love' with Girlfriend Cherry Seaborn: 'I've Never Been Happier' (People), Ed Sheeran: How I Won Over My 'Wonderful' Girlfriend (Us Weekly)