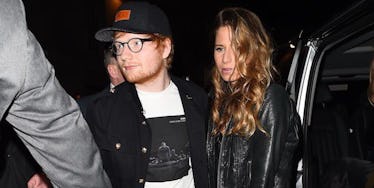 Ed Sheeran Gave His GF His Shoes When Her Heel Broke, So Guys Take Notes
REX/shutterstock
Really, Ed Sheeran??!?!?! You're REALLY pulling this crap that the rest of us dudes now have to live up to?!?!?!
The 26-year-old UK native is a folk hero to most of regular folk.
He's not amazing looking, he's kinda short and is one of the most gingery people of all time. At the same time, he's also a global music icon, probably a gajillionaire and hangs with some of the best looking women on the planet regularly.
Just getting to a position where you can be friend zoned by Taylor Swift is an accomplishment in and of itself for a regular.
Ed is spoken for, though, and he recently gave the entire world a clinic on what it means to be a good boyf.
While attending an after-party for the Brit Awards, Sheeran's girlfriend, Cherry Seaborn, had a heel break off one of her shoes. Rather than let her hobble through the streets of London, Ed slipped off his own sneakers and let her walk around in them.
LOOK AT THIS CRAP.
Just to recap:
Ed Sheeran gave his girlfriend the shoes off his feet, forcing him to walk through the street in his socks, so that she could be more comfortable at an awards show after-party for an event he previously won four awards at.
Good freaking luck keeping up with that, rest of the men on the planet.
I MEAN!!!!!
Sheeran is clearly super smitten by Cherry. He recently talked about his relationship with his hometown sweetheart.
During the interview, he said,
This is actually the first time I've been away and just chilled and nothing going wrong. Everything is going great.
Later going on to say,
That side of my life is meant to be the part that chills you out and it definitely is. She just sends me videos of our cats and I'll finish interviews and go and watch videos of our cats playing (some British word I didn't understand).
Way to make the rest of us look bad, Ed.
Citations: Ed Sheeran Gives His Girlfriend the Sneakers Right Off His Feet When Her Heel Breaks, Proves Chivalry Still Exists (People)