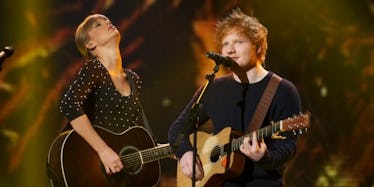 Taylor Swift Can't Handle Ed Sheeran's New Music, Proves She's His Biggest Fan
REX/Shutterstock
On Friday, Ed Sheeran sent shockwaves through the internet after he dropped his first two singles since 2015!
He announced the new songs, "Castle On The Hill" and "Shape Of You," via Twitter, and his followers, as you might imagine, went absolutely nuts!
It appears, though, no one was more surprised and excited about Ed Sheeran's new music than, wait for it... Taylor Swift?
That's right, kids.
Taylor Swift took to Instagram following Sheeran's new music drop, and she didn't hold back in showing her enthusiasm on the social media sharing site.
To caption the above photo, Swift wrote,
OH MY GOD OKAY ITS HAPPENING EVERYBODY STAY CALM
Wow! Relax, Taylor, everything is going to be OK!
Since the release, Sheeran's new singles have shot to no. 1 and no. 2 on iTunes, and if you take a listen, it's not hard to hear why.
For those of you who don't remember, T Swift had Ed Sheeran as an opening act on her US tour in 2013, and fans immediately fell in love with the British singer.
It appears the love is very much mutual in this musical relationship.
Speaking about Taylor Swift to J-14 magazine in December 2012, Ed Sheeran said,
She's a very warm, loving person, and I think she kind of spreads that around to her fans, family and friends. I think if a guy pinned her down they would be happy.
In February 2013, Tay Tay sent an adorable birthday message via Twitter to Sheeran. She said,
So. One of my favorite human beings on the planet turns 22 today. I hope @edsheeran has the most perfect show in LA tonight! HAPPY BDAYYYY.
Ed once again proved his admiration for his bestie in an interview with Billboard in January 2013. The 25-year-old said,
I'm a fan of Taylor's, not just her work but her ethics and that she writes her hits herself. She's probably the only woman in her position in the industry who writes 100 percent of her hits. It's a very cool thing.
So, can these two get married already?
Citations: It's Okay, Taylor Swift is Also Freaking Out About Ed Sheeran's 'Shape of You' (billboard)