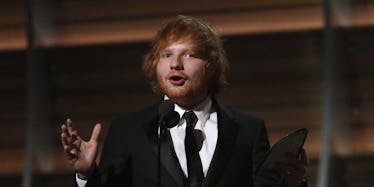 Ed Sheeran Finally Dropped New Music, But You Secretly Heard It On Snapchat Already
REUTERS
It's the moment we've all been waiting for: Ed Sheeran has finally released new music.
Yes, yes, I know. Technically Sheeran's been releasing new music for a while with his work for other artists, like Justin Bieber for "Love Yourself."
But this is the first new music Sheeran has dropped for himself since 2015. It's only been 2017 for a few days, but it sure seems like it's been a long while since we've had some new Sheeran hits.
The singer-songwriter dropped not one but two new songs for his fans.
He said on Twitter it's because he's "been away for a bit."
The two new songs are "Castle On The Hill" and "Shape Of You." "Castle On The Hill" is a slower ballad about home, while "Shape Of You" is a bit more upbeat and all about love (or at least sex).
The people were, of course, very excited with these two new tracks.
They seem to be getting a good response so far, and I look forward to 17 months of hearing them on your mom's favorite easy-listening radio stations.
But if you've been paying attention at all to Sheeran's social media postings, you'll have already known these songs were going to drop -- and how they would sound.
Sheeran has been posting not-so-subtle clues about his new music on social media for the past week.
He also actually played 30 seconds of the new songs over on Snapchat, using the sunglasses filter, on Thursday.
The new songs feature lyrics Sheeran has been tweeting out, sure to make you feel feelings.
Sheeran seems to be gearing up for full publicity for his new music.
This ain't no Frank Ocean-style mystery drop. He wants you to know exactly where and when his music will be and he wants you to know these songs, dammit.
Over in England, he already performed "Castle On The Hill" live on Friday morning.
Someone certainly is making good use of his New Year's resolutions.
Citations: Teen Vogue, Billboard