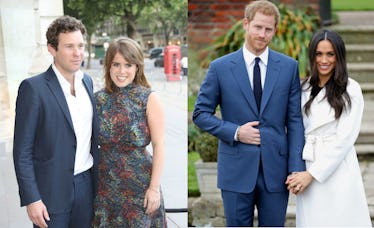 Princess Eugenie's Wedding Had A Bunch Of Similarities To Prince Harry & Meghan Markle's
Chris Jackson/Getty Images Entertainment/Getty Images
Seeing as though Princess Eugenie and Prince Harry are first cousins who had weddings about five months apart from each other at the same exact place, it makes sense that people would wonder how Princess Eugenie's wedding compared to Meghan and Harry's wedding. For starters, both Princess Eugenie and Jack Brooksbank and Prince Harry, Duke of Sussex, and Meghan Markle, Duchess of Sussex, held their respective ceremonies at St. George's Chapel at Windsor Castle. So, right from the jump, that is one big similarity.
You can't really blame Eugenie for wanting to follow in Harry and Meghan's footsteps when it comes to location, because St. George's Chapel on the grounds of Windsor Castle is really quite a breathtaking scene. When it comes to the guest list, there was a similar cast of characters at both weddings, since, of course, Eugenie and Harry are first cousins. Harry and Meghan were at Eugenie and Brooksbank's nuptials on Oct. 12, 2018 along with Prince William, Duke of Cambridge, and Kate Middleton, Duchess of Cambridge. Oh, and Prince George and Princess Charlotte also reprised their respective roles as pageboy and flower girl. Prince Louis is a bit too young to walk down the aisle just yet.
In continuing the comparison, Eugenie and Brooksbank took a carriage ride through Windsor, following a similar route that Harry and Meghan took just five months prior. It was noted by The Telegraph that Eugenie's and Brooksbank's ride was slightly understated in terms of pomp and circumstance, as compared to Harry and Meghan's May 19 ride.
When it comes to weddings, one of the first things you think about is the bride's wedding dress, right? Well, Eugenie did not disappoint in her Peter Pilotto and Christopher De Vos gown. Of course, this is an area of the day where Eugenie did not follow exactly in Meghan's footsteps. Prior to the big day, Eugenie told Vogue editor Ellie Pithers how her dress would be made by a "British-based designer." Eugenie shared at the time,
I'm not telling anyone who is making it, but I can say it is a British-based designer. [The dress] is the one thing that I was really decisive about. As soon as we announced the wedding, I knew the designer, and the look, straight away. I never thought I'd be the one who knew exactly what I like, but I've been pretty on top of it.
Of course, Meghan wore a stunning Givenchy gown during the ceremony at St. George's Cathedral, and then she changed into a Stella McCartney dress that was perfect for the reception.
WPA Pool/Getty Images Entertainment/Getty Images
WPA Pool/Getty Images Entertainment/Getty Images
Another guest who was in attendance at both ceremonies was, of course, Queen Elizabeth II, grandmother to both Eugenie and Harry. As she did for Harry and Meghan, Queen Elizabeth threw an afternoon champagne reception for the newlyweds on the grounds of Windsor Castle. While the reception was similar to Harry and Meghan's back in May, the queen donned a powder blue outfit for Eugenie's big day, while she opted for a light green overcoat and floral dress at Harry and Meghan's wedding.
Finally, the nighttime receptions following the proper champagne receptions both pared down the guest list from the previous festivities. Harry and Meghan's bash cut the list down to about 200 people at their Frogmore House reception in Windsor, and Eugenie and Brooksbank's guest list was more than halved from the 850 attendees at St. George's Cathedral. Per The Telegraph, they are expected to let loose with about 400 attendees at the Royal Lodge in Windsor, aka the official country residence of Eugenie's father, Prince Andrew, the Duke of York.
All in all, I don't think the similarities or differences really matter here, because both ceremonies were absolutely beautiful and both couples seem really happy. That's all that matters, right?