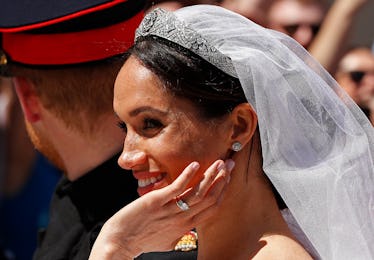 Meghan Markle's Second Wedding Dress Is Just As Gorgeous As The First
WPA Pool/Getty Images News/Getty Images
When I got married, I didn't have a second dress. Not entirely because I blew my money on custom lighting and silverware (did you know you have to pay for each individual fork, spoon, and knife?), but because I couldn't bear the thought of taking off my wedding dress before the night was up. It was difficult enough slipping out of it at 2 a.m. when I got back to my hotel room. However, had I found a gown that looked like Meghan Markle's second wedding dress, I might've sang a different tune.
I've met so many different brides with different views on the second wedding dress. Some feel like I did: the gown is too special. You only wear it once. You have to wear it all night. But on the other hand, I've been to a wedding where the bride was so extra (and I mean this in the nicest way), she changed four times. Each one was just as beautiful as the last, but I still wonder how she had the time for so many costume changes.
Somewhere between simple and over the top, Kate Middleton also opted for a second dress. She changed from her lace long-sleeved Alexander McQueen gown that boasted an almost-9-foot train to a second McQueen design with a similar silhouette and sweetheart neckline. I still dream about that darling white, fuzzy bolero cardigan that she threw over the gown.
And on her very own wedding day, Meghan Markle also opted to change out of her ceremony gown — which was designed by Claire Waight Keller for Givenchy, according to Elle — to a stunning Stella McCartney gown with a halter neckline for their wedding reception at Frogmore House.
Royal correspondent Richard Palmer announced the details of Markle's ensemble on Twitter, writing:
The Bride's evening dress is designed by Stella McCartney and is a bespoke lily white high neck gown made of silk crepe. The Bride is wearing shoes from Aquazurra made in silky satin, with nude mesh, with soles painted in baby blue.
No, it's not Photoshop. Her dress is really that gorgeous. I know it's a lot to ingest, so go ahead and take another look.
Yep, it's official: I definitely would've opted for a second dress if I found anything as gorgeous as this hanging around in-store. If you need a visual of how I'm feeling inside, this is totally it:
While we're all marveling over this look, can we also take a moment to discuss how these two are totally color-coordinating with their ride to the reception? The Palace notes that they rode off in a fancy silver blue Jaguar E-Type Concept Zero, which was "originally manufactured in 1968, and has since been converted to electric power."
Do wedding looks get any more lavish as this?
Twitter users were so smitten with Markle's second dress. One person wrote, "Just when I think she couldn't be more beautiful or he more handsome they go and do something like this."
My thoughts exactly, @magnoliapeach.
Some even said they adored Markle's second dress more than the first.
Markle has been radiating beauty this entire day, and just when I thought I couldn't be wow'ed any more than I've already been, she completely shook me up with this second look. Although it's long past my wedding day and the window to rock a second dress has closed, I'm already conjuring up ideas to get away with wearing a dress similar to Markle's any way that I can. Perhaps I could even wear mine at Christmas...