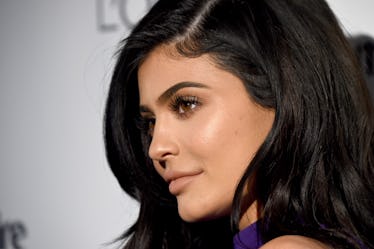 Kylie Jenner's Favorite Affordable Skincare Products Guarantee 'Gram-Worthy Skin On A Budget
Frazer Harrison/Getty Images Entertainment/Getty Images
In a world where I want to look like a Kardashian, but I have a negative balance in my bank account, any report of a drugstore favorite from the beauty-conscious clan has my full attention. I devote an uncomfortable amount of my time to scanning Kardashian and Jenner apps and social media accounts in hopes that they'll drop hints on their favorites, and have an ongoing list of their recommendations to whip out when it's time to shop. Out of all the searching on each sister, though, Kylie Jenner's favorite drugstore skincare products are usually at the top of my most-wanted list.
As the creator of her own beauty brand, Kylie Cosmetics, it's easy to think of Jenner as just a makeup junkie — but she and her sisters are always quick to insist that taking care of your skin is essential to getting a smooth canvas for makeup in the first place. Normally a full-on glamazon, new mom Jenner has recently toned down her look and gone a touch softer in regards to, well, just about everything. Her lip fillers are no more, and even though she's still serving fire looks on the 'gram, it's all a bit more toned down than before. She seems to be letting her stunning skin make a statement on its own.
We're all familiar with Kylie's full-glam looks:
And while I stanned her dedication to a full beat almost every day, her natural look is just as stunning:
While anyone can rock a fully beat face or an au naturel look just fine, what makes the task easier is prioritizing skincare, so your canvas is easy to work with. As someone with less-than-fantastic skin, I'll be the first to say an expensive foundation can't always mask what's underneath (if that's what you're going for) when I haven't been treating my skin well, so maintaining a good skincare routine is undoubtedly the key to getting a a healthy finish overall. And to do so on a budget? Even better, which is why I've scoured the Internet to find out some of the budget-friendly products Jenner uses to keep her skin looking healthy.
Kylie's new look may be skin-focused, but that doesn't mean she's only just started investing in her skin. Way back in 2016, she did a YouTube video for luxe skincare brand Rodial, where she shared some budget-friendly skincare favorites from the brand Nip + Fab, including their Dragon's Blood Fix Plumping Serum ($20, nipandfab.com) and the Glycolic Fix Night Pads ($12, amazon.com). In the video, she says she loves to apply the serum before her makeup thanks to its hydrating properties, and she uses the pads at night to exfoliate with ease.
She also mentions the Mario Badescu Facial Spray With Aloe, Herbs and Rosewater ($7, mariobadescu.com) in a different video posted to her app, where she shows her travel bag musts and praises the mist for its refreshing, hydrating properties.
According to Jenner, some of her favorite affordable beauty purchases are masks, and over the years, she's clued us in to a number of her must-haves. In a throwback post on the Kylie Jenner app, she shared her top 10 favorite face masks, quite a few of which cost less than $10. Some of her faves included the Sephora Collection Rose Face Mask ($6, sephora.com) to perfect and brighten, and the Miss Spa Restore and Brighten 24k Gold Radiance Facial Sheet Mask ($4, target.com) to hydrate and smooth.
Based on her picks, it's clear that Jenner turns to sheet masks for brighter, more radiant skin in minutes, and she spills on her app that she loves them not only for the beauty benefits, but the pampering, treat-yourself vibe as well.
"As much as I love makeup, it always feels so good to take it off and really pamper my skin," she wrote on her app, adding that she tries to mask up to a few times a week when she can. When she isn't opting for a sheet mask, she's also mentioned her love for the L'Oreal Paris Pure Clay Detox & Brighten Clay Mask ($13, lorealparisusa.com), which contains charcoal to target impurities.
Before she applies these fabulous face masks, the girl's gotta take her makeup off. According to a post on her app, she gets the job done using the Neutrogena Makeup Remover Cleansing Towelettes ($8, neutrogena.com).
"When I wear a lot of makeup, it can really be hard to take it all off, so I need something that will do the job, but not irritate my skin," she wrote in her post. And while I'm all for living la vida Kylie, let me take one moment to beg you to use these wipes as only part of your makeup removal process — please follow up with a cleanser or face wash to really clean your skin once the makeup is off!
Jenner hasn't shared too much more about other drugstore skincare faves, so it's safe to assume she uses these budget buys in conjunction with her higher-end faves. Now that she's really showing off her skin, perhaps Kylie Cosmetics will come out with some skincare products in the near future? There haven't been any reports, but I'm keeping my fingers crossed for a Kylie Jenner Lip Mask come 2019 to prep my pout before applying my Lip Kits — who's with me?