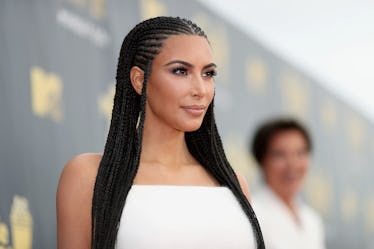 Kim Ks Favorite Drugstore Skincare Products All Cost Under $25, So BRB, Going To Target
Christopher Polk/Getty Images Entertainment/Getty Images
No matter how hard I've worked to lock down a consistent skincare routine that works, I will always, always make a change if Kim K tells me to. What can I say? She's got a flawless complexion and the kindness to keep her fans in the loop, so I'll take all the Kardashian skincare tips I can get. That said, imagine my joy when Kim Kardashian's favorite drugstore skincare products went live on her KKW app. Let's just say, I'll be picking up more than one of these products in the next few days (OK, hours).
While some celebs try to give off the whole "I Woke Up Like This" vibe when it comes to their beauty regimes, the Kardashians use their personalized apps to be a little more transparent — I wouldn't go as far as calling them "relatable," but it's the thought that counts! If the girls all have one thing in common, it's truly gorgeous skin, so whenever they're spotted with a product or mention some favorites, I always take note. Yes, makeup is an essential part of that Kardashian airbrushed finish, but even the finest of KKW Beauty products can't mask skin that needs some TLC, so their skincare routines fascinate me even more than their favorite foundations.
Need some convincing? Kim often takes to Snapchat and even Instagram without any makeup, but my favorite no-makeup moment for her was her "Power of Makeup" YouTube video with beauty guru NikkieTutorials. The "Power of Makeup" series involves only glamming one side of the face, to compare it to one's natural side. Kim's outcome is especially impressive because, in my humble fangirl opinion, her no-makeup side looks as gorgeous as the full beat, and honey, proper skincare is to thank:
Plump skin, even tone, natural glow... honestly, my full face glam looks less perfected than her natural complexion. I'm not bitter, I'm impressed! And while there's no doubt the star likes to splurge on facials and pricy products, she took to her KKW app to grace us with her drugstore favorites, rounding up her top must-haves that are $25 and under. So basically, she's decided to bless both my skin and my savings account.
Out of all the products lining the drugstore shelves, Kardashian has selected just six to put her stamp of approval on. The lineup is as follows: a cleanser, a sheet mask, a moisturizer, an anti-aging retinol, an eye cream, and an oil.
A classic pick, the Cetaphil Daily Facial Cleanser ($10, amazon.com) is something Kardashian loves to help take the day off. It's a super gentle formula that deep-cleanses skin without drying it out, and the fragrance-free formula suits even the most sensitive skin.
For anyone who wants to pamper on a budget (I'm talking under $3, here), Kardashian's sheet mask favorite is a serious winner. If you've heard about her somewhat negative experience with the "vampire facial," you might not be surprised to know that she sometimes takes matters into her own hands with at-home treatments like sheet masks. This Ponds Hydrate + Glow Sheet Mask ($2.50, target.com) contains papaya extract, vitamin B3, and vitamin E to provide hydration and ~glow~ in just 15 minutes.
Kim's moisturizing and anti-aging products are where I'm really taking notes. Even though her style has changed dramatically since Season 1 of Keeping Up With the Kardashians, her skin has hardly aged a day. The Olay Regenerist Whip Facial Moisturizer SPF 25 ($30, olay.com) has a super lightweight feel, but it's heavy on results. With a fast-absorbing formula and matte finish, the anti-ager is supposed to help minimize fine lines and wrinkles for way cheaper than a round of botox.
Kardashian's other favorite anti-ager? She loves applying the RoC Retinol Correxion Deep Wrinkle Anti-Aging Retinol Night Cream ($18, target.com) before bed for some heavy-duty care. The dermatologist-tested pick uses pure RoC retinol to smooth fine lines while you sleep.
Retinol isn't the only luxe ingredient Kardashian finds at the drugstore. She's a fan of hyaluronic acid for its hydrating and plumping properties, so it's no surprise she loves the Neutrogena Hydro Boost Hydrating Gel Eye Cream ($20, neutrogena.com). This eye cream utilizes hyaluronic acid to deliver a supple, smooth, and well-hydrated under-eye area.
The final favorite on the list can serve as skincare for both the face and the body: the Bio-Oil Multiuse Skincare Oil ($9, amazon.com). It's especially good for moisturizing and reducing the appearance of scars and stretch marks on the body.
Kim K's number one tip for getting the most out of your skincare regime? "Just remember that consistency is key!" she writes on her app. "If you use the products regularly, you'll see better results." As soon as I snatch up everything on her list, I'll definitely take this advice, and then, I'll be on the fast track to gorgeous, Kardashian-approved skin.