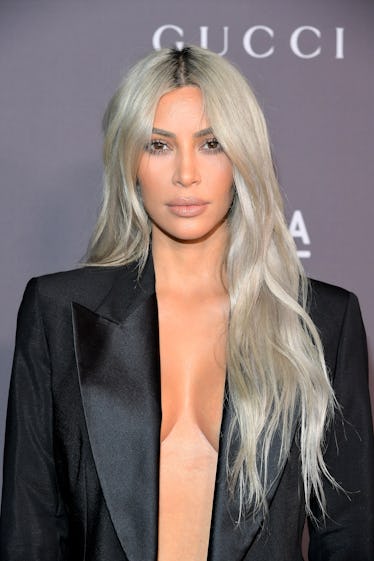 Kim K's Favorite Skin Care Products All Have One Thing In Common & Yes, You Need It
Charley Gallay/Getty Images Entertainment/Getty Images
If you ever take product recommendations from someone, it's best to take it from a person who has tried everything. But really, who has actually tried everything? Maybe someone who has an entire room dedicated to their beauty products. Get my drift? Kim Kardashian's favorite skin care products surely come with careful vetting. I doubt just any old tubes of moisturizer take up valuable space on her highly curated shelves. So what exactly does a beauty junkie with access to all the best products in the world use? Lucky for all of us, Kim shared her favorites on her website, so we can pick them up, too. And interestingly enough, they all have one very important thing in common. (And no, it's not that they're all out of your price range.)
"In my daily skincare routine, I always make sure to wear products that have SPF!" she writes on her site. "It's so important for protection, preventing fine lines, wrinkles and discoloration." And in case you're the type to only break out the sunscreen when you're in, well, the sun, just know SPF is just as important in the winter as it is when you're lying on a beach or dancing at Coachella. And believe it or not, it's not just sunscreen that'll give you SPF coverage. "If you don't like sunscreen on your face, there are a lot of skincare options that still have coverage — everything from primers and oils to foundations and sprays," she continued. These are some of the products Kim adds to her routine that protect her skin from the sun, but don't feel like sunscreen.
Protecting your skin from the sun doesn't mean have to mean wearing a ton of greasy, heavy product on your face. CLE Cosmetics' Essence Air Cushion ($49, clecosmetics.com) is a foundation providing sheer to medium coverage, in addition to protecting your skin with SPF 50, making your skin feel light and bright.
While most suncreens come in a thick, white cream, this Supergoop Sun-Defying Sunscreen Oil with Meadowfoam SPF 50 ($34; supergoop.com) is in oil form, which makes achieving a dewy, radiant, back-from-the-beach glow so easy while also preventing fine lines, sunspots, and painful burns.
Swap your go-to setting spray with this bamboo extract and chamomile-infused Pixi Skintreats SPF 30 Sun Mist ($18; pixibeauty.com). Then, take it with you to the beach to simultaneously pack on more protection while cooling yourself down. The best part is, it costs under $20. Score!
We all want color on our faces, but subjecting yourself to harmful UV rays is not the way to do it. This Perricone MD No Bronzer Bronzer SPF 30 ($35; perriconemd.com) gives your skin believable color and keeps your skin safe. Mix it with your favorite foundation, or use it as a contour shade.
Wearing a greasy sunscreen under your foundation might change the way it performs. Instead, swap your two-step sunscreen-and-foundation routine for this It Cosmetics Your Skin But Better™ CC+™ Cream with SPF 50+ ($38; itcosmetics.com), which gives you an even complexion with tons of protection.
But if you prefer to use your go-to foundation, that works, too! Just make sure to swap your greasy sunscreen for this Coola Dawn Patrol Classic Makeup Primer, SPF 30 ($42; coolasuncare.com). Aside from making your makeup last all day, it blurs pores and helps keep your makeup matte, no matter how hot it gets outside.
This Colorescience Sunforgettable Brush-On Sunscreen SPF 50 ($65; colorescience.com) is actually one of my personal favorites. With a built-in brush, this powdered SPF 50 can be tossed into your bag for touch-ups on the go. It's also perfect to mattify your T-zone without having to pack a makeup brush in your clutch.
For even more of the skin care products Kim swears by, head to her website. You might not like wearing sunscreen, but it's about time you at least incorporate some SPF-infused versions of the products you already use on the daily into your routine. Trust me (or at least trust Kim), your skin will thank you down the line.