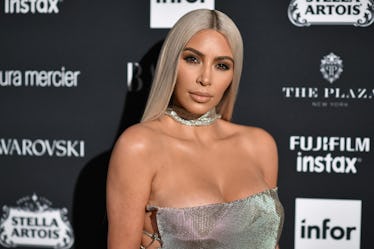 Kim K Reveals The Beauty Procedure She'll NEVER Do Again & It Sounds So Painful
Dimitrios Kambouris/Getty Images Entertainment/Getty Images
We've all fallen victim to a beauty product or procedure that we just didn't love. Long, luscious hair and glowing skin seem great and all, but sometimes, the effort (or cost) just simply isn't worth it. Apparently, it's no different for celebrities either, who are known for trying (and sometimes endorsing) various ways of keeping up with their appearances. Case in point: our girl Kim Kardashian, who got real about the vampire facial and gave her honest thoughts about the beauty procedure in one of her blog posts.
Before we get into why Kim says the vampire facial was "the most painful" procedure she's had, a lot of people are thinking, "What the hell is a vampire facial?"
Allure Magazine spoke with Joshua Zeichner, the director of cosmetic and clinical research in dermatology at Mount Sinai Hospital in New York City, to help describe what a vampire facial does to your skin. Zeichner said that it's a facial that uses "your own blood to help promote the healthy activity of your skin cells." If that still sounds confusing, you're not alone. Allure explains it further, saying "the process includes the initial blood draw, then running the blood through a centrifuge to isolate the platelets," adding that "you'll then receive microneedling or microdermabrasion just before your PRPs are slathered across your face." So basically, they draw blood from your body, and then use that blood as some kind of facial mask.
Hey, I think it's worth a shot!
But to Kim K, it seems that the vampire facial might not be on her list of things she'd be willing to try again. On her blog, Kardashian wrote about her experience, penning the title, "The skincare treatment I'll never do again." She explains that because she was pregnant, she wasn't allowed to use any numbing creams or pain killers, which may be why her experience was less than pleasant. She wrote,
Before I got the procedure, I just found out that I was pregnant, so I couldn't use numbing cream or a pain killer and both are suggested ... It was really rough and painful for me. I couldn't tell anyone about the pregnancy, either, but I pulled Jonathan aside and told him. My show was also filming the treatment, so I felt I couldn't chicken out. It was honestly the most painful thing ever!
Ouch. While Kim's physical reaction definitely seemed painful, everyone can react to things differently, so that's not to say everyone would think this procedure is painful. But I totally feel Kim out for not being able to have any pain killers, since receiving those might have helped matters.
But let's be honest – Kim Kardashian's skin always looks really beautiful, with or without a vampire facial. On Kardashian's blog, she revealed that she uses anti-aging products as a way to get smooth, clear skin. She wrote,
In any skin-care routine, anti-aging products are SO important ... They can have so many benefits, like reducing dark spots, preventing wrinkles, smoothing fine lines and so much more.
It also probably helps to have good genes. Kris Jenner, you're one fierce looking grandma.
We should also hand it to Kim K for crushing the hair game, and not just the beauty game. She's dyed her hair many striking colors (like platinum blonde, which looked freaking amazing), but most recently, she showed off new pink hair to her fans:
And, as with anything Kim K touches, her new look turned into pure gold and fans were here for it:
What's the moral of the story? When it comes to beauty procedures, make your own decision about what you'd like to do with your skin. And when it comes to hair, maybe just dye it pink, because it's fun as hell. The end.