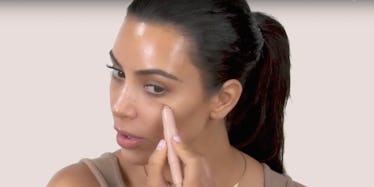 Kim Kardashian's 5-Minute Contour Will Remind You How Much You Suck At Makeup
YouTube
Kim Kardashian makeup tutorials are now a thing we have lots more of thanks to the launch of KKW Beauty. In this new video, Kim K herself does her makeup using only her crème contour kits, and it only takes her five minutes.
Yup, Kim Kardashian just did in five minutes, what you've been trying and failing to master for five years.
This proves a couple of things:
1. Just how simple contouring in general can be.
2. How easy contouring is with the KKW Beauty contour kits.
I waited online for an hour trying to get the light kit the day they went on sale (June 21), but they sold out before I could get my hands on one.
If you got one, we are not on speaking terms.
Anyway, in the video, the 36-year-old shows us how she does her makeup when she's doing it on her own and doesn't care to go full glam.
Kim Kardashian starts off with a clean face, no makeup, and then she adds moisturizer to soften her skin and give the contour something to cling to.
She says, "I feel like sometimes, when you only have five minutes and I just want to look a little more sculpted and bronze, this is what I do."
She says she goes between the medium and dark color kits.
She uses the matte highlight from the medium kit as a concealer. She noted in the beginning of the video that she wasn't wearing any concealer or foundation and wasn't planning on putting any on in the video, so it's interesting to see how her highlight can be used in lieu of an actual concealer and speaks to the versatility of the kits.
She said, "If I literally was stranded and I only had this product, this is, like, exactly what I would do." She then uses the lighter contour from the medium kit to contour her nose.
She then uses the darker side of the medium kit to contour her cheeks, forehead, and chin in the shape of the number three.
She says,
I love to go along my hairline 'cause I just really like to look super bronze, and I love, like, a short forehead. I know it sounds weird, but it will totally shorten your forehead. My theory with contour is I always go kind of in, like, a three.
She then uses the brushes the kits provide to blend everything together, first using the kabuki brush end, then using the sponge end (she wets the sponge a little first).
Then she uses the extra product from the kabuki brush to add a tad more color to the highlighted parts so it doesn't look too white. She demonstrates using the darker contour side as a shadow on her eyes.
The last thing she does is apply the shimmer highlight to her nose, cheekbones, cupid's bow, brow lines, collar bone, and a little down her shoulders.
And that's literally all she does. That's it. She's done. It took less than five minutes, and she did all of it with one makeup kit and moisturizer.
I AM A FAILURE.