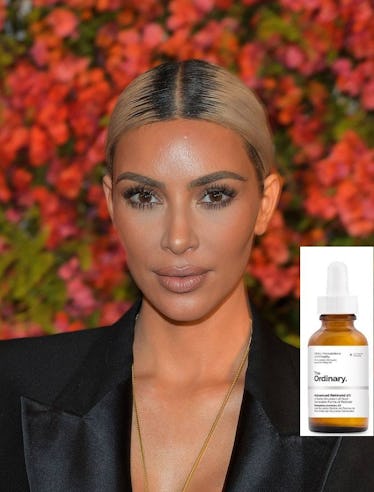 Kim Kardashian Loves This $10 Serum From The Ordinary, Everyone's New Skincare Obsession
Getty
Most celebrities have insane beauty routines that cost more per month than my Brooklyn rent did. Which is why when one of them swears by a product that's actually affordable — like, drugstore affordable — you know it's good. The Ordinary is Kim Kardashian's skincare secret, specifically the brand's Granactive Retinoid 2% Emulsion ($10; The Ordinary) and if it's coming anywhere near Kardashian's gorgeous (and money-making) skin, you know it's probably not so ordinary, after all.
Of all the celebrities out there, I would not expect Kardashian to go for a product that costs $10 for a 30ml bottle. (Yes, it's staggeringly cheap.) She's a known fan of Guerlain's Orchidee Imperiale La Creme, which goes for $455 per 50ml jar, and People reported that her entire beauty routine costs a whopping $3,000 a month. In other words, she's totally down to drop some major cash on a small amount of product. Which is why I wholeheartedly believe that The Ordinary's affordable elixir must be truly magical — I am dying to try it.
According to Refinery29, Kardashian revealed her love for the product in a post on her website (which you have to pay $3/month to gain access to, btw), and also wrote about being able to find bargain products that are truly effective. While I would love to hear what other drugstore-level products Kardashian is using on the regular, I'm satisfied with learning about this one secret for now.
The emulsion itself is a moderate strength retinoid (a derivative of vitamin A that spurs cell turnover) with the texture of a serum. Retionoids help unclog pores, boost collagen, reduce fine lines, and help skin become even and supple. When used once a day in the evening, this specific product supposedly does all of that without irritating your skin (or wallet). If it's good enough for KKW, who is swiftly building her own beauty empire and is obsessed with and knowledgeable about products, it's probably good enough for me. If my skin will look like hers after using it, it's definitely good enough.
I did a little sleuthing to see how skin that doesn't get the luxury of a regular $450 facial reacts to the product and was delighted to find only rave reviews on The Ordinary's website. "Has visibly reduced my fine lines, and no new ones have cropped up. :) Goes on smooth, absorbs quickly, and doesn't cause irritation to my sensitive skin. And you can't beat the price," wrote one user, who ranked the emulsion ten out of ten stars. "I adore this stuff. At about the 3 month mark of consistent use, my skin seemingly improved vastly overnight. Suddenly, my face appeared so much smoother and more even. I use this every other night, alternating with acids," wrote another.
If you're not already sold, industry insiders are also giving the product two thumbs up: it was nominated in the skincare category of Refinery29's Beauty Innovator Awards, so you know that even the pickiest and most knowledgeable editors in the game have given it their seal of approval.
As someone with acne scars and often dull-looking skin, I can't wait to give this product a try. I'm super cautious about what I put on my face because of my proneness to acne (I swear, if a french fry even grazes my face it will leave a trail of tiny pimples in its wake) but this emulsion seems to illicit only positive feedback. (Yes, I checked for reviews on The Ordinary's website from fellow acne sufferers, and none of them reported it caused a breakout.) Anytime I can feasibly get a taste — or feel — of what it's like to live like a Kardashian, I will take it. So long as it's under $20.