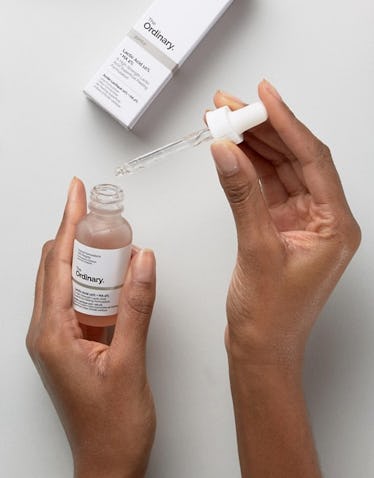 This $7 Serum Produces Such Drastically Glowy Skin, Sephora Can't Keep It In Stock
As a product junkie, I have high standards for my skincare. Unless a new product will reduce blemishes, make me glow, and pay off my student loans, I tend to turn up my nose. To quote the infinitely sage Shania Twain: "That don't impress me much." However, The Ordinary Skincare reviews are here and prove that this affordable line is just too good to be ignored.
The price range alone ($6 to $18 for serums and moisturizers with extremely potent, active ingredients) merits at least one moment of cocking your head to the side in a befuddled, "Huh?" followed by, "How?" And if that wasn't enough, the beauty inter-webs are chock full of reviews from other cosmetic addicts crediting The Ordinary with transforming their skin. If you haven't heard of this brand yet, just get ready. This is just the beginning of The Ordinary's skincare domination.
According to the brand's website, The Ordinary offers "clinical formulations with integrity." In other words, The Ordinary strives to develop strong, effective products that will give you premium results without jacking up the price point. They utilize common formulas and technologies, but eschew the need for "style points" by harnessing simple packaging. Although, TBH, I think the apothecary-esque packaging is quite charming.
After Sephora started carrying The Ordinary, the brand blew up on social media and the star products subsequently sold out there and everywhere else, including the beauty section of ASOS. Now fans are stalking the website just to check when the sold-out products will be replenished, like this skincare junkie.
Some Twitter users are experiencing uncontrollable bowel movements over the low, low prices. TBH, if this is happening to you, please see a doctor. It isn't just a side effect of the skincare.
Seriously, if you haven't developed a skincare routine yet due to the daunting prices of of some products, The Ordinary provides a good place to start.
Though all the products have rave reviews and high ratings, this $7 serum seems to rise about the rest, which is saying quite a lot. If you're looking for the key to glowy skin and smooth-as-a-peach texture, then you have to join the waiting list for the Lactic Acid 10% + HA 2% Serum ($7; sephora.com).
Lactic Acid is known for encouraging cell turnover (aka exfoliation) that leads to fresh, baby skin sans irritation. If you apply this serum every night, you can expect brighter, smoother, and more even skin in weeks, if not days. The Ordinary's intense serum contains 10 percent lactic acid, so it's a force to be reckoned with.
This woman has three years' worth of receipts.
This self-titled skincare expert basically turned into Mariah Carey by using this product.
Lucy here is ready to settle down and commit to her skincare routine.
This Twitter user warns against the one adverse effect of the serum. If you get it in your paper cut, it will burn like hell, but that's just a testament to how strong the ingredients actually are.
And this women flaunts her The Ordinary staples right next to pricier products.
One of my fellow makeup artist friends has used The Ordinary for the past month, and sent me progression pictures of her skin. Before she started using her skincare routine, she experienced texture, redness, and the tiny, annoying bumps known as milia. After the first week of use, her milia was gone and the texture of her skin had improved significantly. After the second week, her redness began to subside and her skin took on a lit-from-within glow. After the third week, her skin was smooth AF, glowy AF, and no longer red. I do trust online reviews, but I trust my friend more. So if she says The Ordinary's a go, then it's a go.
If you want to nab these amazing products, sign up to be notified when they return to Sephora.com. Trust and believe, the wait will be worth it.