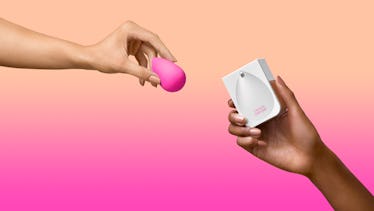 Beautyblender Is Launching Its First Foundation & The Packaging Is Like Nothing You've Seen
Courtesy of Beautyblender
Stop what you're doing and hold on tight to your wig, because this latest beauty launch is about to snatch it right off. You already know the brand Beautyblender thanks to their iconic little pink egg blending sponges — and if you're like me, you've got two to three on your vanity or in your makeup bag at all times. But what if I were to tell you that they've decided to take their brand one step further? That's right, people. They're expanding from tools to color cosmetics! Beautyblender's Bounce Liquid Whip Foundation is coming, and it's the one we've all been waiting for.
Few products have become such a staple in beauty lovers' makeup bags as the Beautyblender. The iconic sponge was the first of its kind to make us rethink our well-loved collection of makeup brushes and opt for something bouncier, more efficient, and, well, pinker. I remember the first time I ran mine under water and watched it expand to double its size — and how bomb and blended my foundation looked all day long thanks to my new little tool.
I'm not the only one who has become borderline dependent on the sponge, which explains why so many brands have begun to create beauty sponges of their own to try and compete. Always a step ahead, Beautyblender has capitalized on their hero product, the namesake Beautyblender ($20, Beauty Blender), by expanding the color selection, including the latest Beautyblender Sapphire ($20, Beauty Blender), and even creating specialized versions for different parts of your makeup routine. The Beauty.Blusher ($16, Beauty Blender) is ideal for gel, cream, or powder cheek products, and the Micro.Minis ($18, Amazon) are perfect for applying concealers, correctors, or eyeshadows in concentrated areas. It's safe to say the brand has taken a great idea and run with it, and it's definitely paid off.
Their sponges and tools have obviously revolutionized the beauty business, and now, the brand is taking it one step further with their first-ever color cosmetics product.
Behold, the Beautyblender Bounce Liquid Whip Long-Wear Foundation:
Courtesy of Beautyblender
Courtesy of Beautyblender
I'm sorry, are you seeing this high-tech packaging? I am shook to the core.
The packaging is the first of its kind, and it's designed to be sponge-compatible, natch, so clean your nearest Beautyblender and get excited.
Basically, there's a reservoir that dips into the side of the bottle (in the shape of a Beautyblender). When you hold the bottle at 45 degrees and pump, foundation fills the reservoir, meaning you can use it like a palette for your foundation. This way, you can dab your sponge onto the reservoir and then apply away to your face — no messy hands necessary. Neat!
As you can see in the images above, the frosted casing is also helpful for seeing the color. Since I know you're wondering, there are 32 "blends" (the brand's word for shades) available, which you can see for yourself above!
Courtesy of Beautyblender
Courtesy of Beautyblender
Courtesy of Beautyblender
Courtesy of Beautyblender
According to Beautyblender, the formula itself has been over 10 years in the making, thanks to its lightweight, liquid, whipped texture. Once applied, the foundation is said to have a matte-velveteen finish — not necessarily dewy, but more skin-like than a full matte. The formula also contains hyaluronic acid and white birch extract, and it's said to provide a smoothing effect along with good coverage. Basically, it promises to do it all, and look cute while doing it. I'm beyond intrigued.
Need proof? Apparently, actress Regina Hall got to take the formula for a test drive at the ESSENCE Festival, where she rocked shade 4.10 and looked practically airbrushed. Now, I'm excited.
If you're dying to dip your Beautyblender into the Bounce Foundation, which will retail for $40, ASAP, you'll have to wait just a little longer — it won't be available in Sephora stores until August 10. However, it will launch on Sephora on July 24, and you can sign up for a waitlist starting tomorrow, July 19. Until then, I'll have my sponges waiting at the ready.