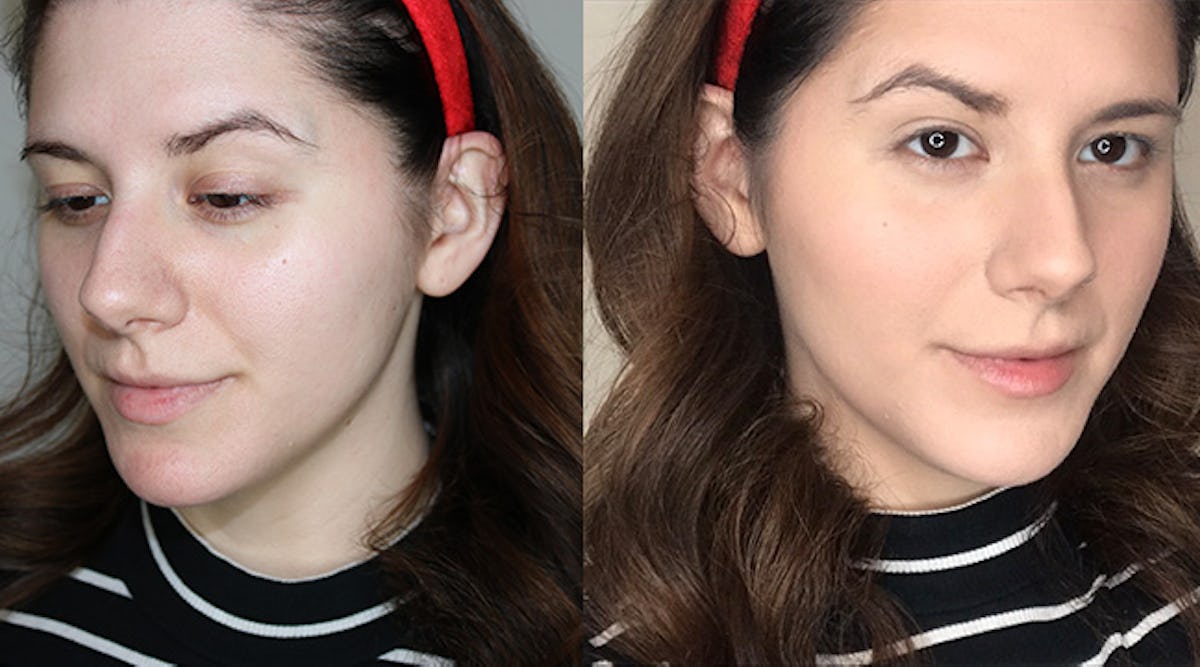 How To Apply Foundation With Your Hands, But Still Look Polished & Airbrushed AF
Kim Carpluk
I do love a good brush. There's nothing like the full coverage and smooth finish a paddle brush can give. However, sometimes you might want a more natural look (or you might be applying your makeup brush-less on the go). If you're wondering how to apply foundation with your hands (and all of your other complexion steps, for that matter) without looking like a patchy mess, then worry no longer, my finger-loving friends. I'm here to break down all the tips and tricks you need to get that airbrushed finish using just the tools you were born with.
I was recently reminded how great brushless makeup application can be as I watched Burberry's Makeup Artistic Consultant Wendy Rowe apply an impeccable, natural complexion on a model in 2.5 seconds. She swiped a foundation stick onto the models skin, blended it out with her fingers faster than you can say "trench coat," and the result was natural, effortless, and almost too easy.
Growing up, I only applied my foundation with my fingers. I didn't know there was any other way, TBH. As I became a baby makeup artist, I learned that there are many other tools out there that deliver different effects, like buffing brushes, flat brushes, and sponges. Though all these items were now at my disposal, fingers have still remained in my makeup application arsenal.
Brushes can give us full coverage seamlessly, Beauty Blender sponges can give us medium coverage in a pinch, but fingers can achieve a very natural, skin-like application with very little effort. Don't be fooled, though. Apply your foundation with your fingers haphazardly, and you'll wind up with a streaky mess, reminiscent of a kindergartener finger painting for the first time. However, press and swipe your foundation on with a little TLC, and you be left with an undetectable finish that looks just like a second layer of skin. Just keep these tricks in mind, and you're fingers will be handy in no time.
Of course, I highly recommend prepping your skin with your favorite skincare routine before applying any makeup whatsoever.
Prime Your Face First
The one thing I've noticed is that when you apply your foundation with your fingers, pores might be a bit more visible. Generally, a brush with synthetic bristles would help the product to glide effortless over your pores, but fingers tend to absorb a bit more product. However, using a primer (preferably a smoothing one/one with silicone) will help to prevent this from happening. My personal favorite one the Urban Decay Optical Illusion Complexion Primer ($34; Sephora). This primer, though smoothing, has a soft matte finish which helps to keep my oily skin at bay. If you're dry, I highly suggest the Smashbox Iconic Photo Finish Foundation Primer ($36; Sephora). It's still smoothing, but will quench the thirst of your dry skin.
Using your fingers, work with circular motions from the center of your face (or wherever you have the most pores) working outward. This will fill and smooth the pores so the foundation can glide seamlessly over them.
Strategically Apply Your Coverage
Just as a reminder, fingers are great for a natural application of sheer to medium coverage. Will you be able to build the product up to full coverage? Absolutely not. Only brushes with do that. However, because fingers are very porous and emit body heat, the foundation will melt effortlessly into your skin and lay flat, almost undetectably.
I started by applying my new Burberry Fresh Glow Gel Stick in Porcelain (out in March) to the red/discolored parts of my face. This has been my new favorite foundation as of late. It has an immediate cooling sensation as it touches the skin, which helps to relieve puffiness and improve circulation. When I wear it, it looks like I'm cleaning my skin (versus covering it up). The discoloration just... disappears. It's not available yet, but it will be hitting Sephora very soon.
Generally, I apply the majority of the product to my forehead, nose, chin, and cheeks. The perimeter of the face tends to be more consistent in color, so I don't apply much (if any) product there.
I like to work in sheer layers. That way, I build the coverage up just in the areas where I need it. With swiping motions, I start at the area where I need to most coverage and drag the product toward where I need the least.
Once all the hard lines and edges have been blended out, I go back and add a second layer of color just to the areas where I see a little redness still peeping through.
Brighten The Under Eye
Once my foundation has been successfully applied, I add a bit of concealer to my dark, recessed under eye area. By using a hue that's one shade lighter than my skin tone, I fight the natural shadows that occur there and optically pop that area forward. My personal favorite is the Kat Von D Lock-It Concealer Crème ($26; Sephora) in L5. It's full coverage, creamy without being too thick, and dries down for ultra long crease-less wear.
To keep the coverage as full as possible, I pat the under eye area with my finger. Patting allows the pigment to stay in place, assuring fuller coverage. Swiping or pulling the pigment back and forth would sheer it out too much and reveal my dark undereye area. Plus, the skin under the eye is very thin, like tissue paper. Too much swiping can cause fine lines and wrinkles over time.
Apply Your Complexion Accessories
If foundation is the outfit, then the time has come to accessorize the hell out of it with highlight, contour, and blush.
The same rules apply. If we want to sheer coverage out or blend hard lines or edges, then small swiping motions will be the technique of choice. If you want to keep the saturation intense, then you want to pat or press to diffuse the edges without watering down the color.
The result was a much more natural, skin-like finish than I normally wear but, TBH, I kind of loved it. The sheer layers allowed my skin to breathe and I found that I was less oily throughout the day and experienced way less transfer.
It's probably the most natural foundation application I've ever done on myself. I do like to look like a mannequin, but sometimes it's nice to look natural.