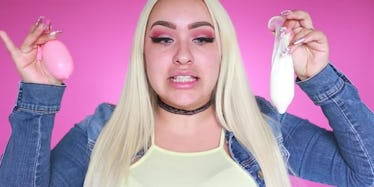 5 Disturbing AF Things People Are Actually Using As Beauty Blenders
Youtube
Beauty blenders have taken over social media and all of the Forever 21 cash-out aisles. They come in a million pretty colors, and are also pretty fun for testing your boyfriend's knowledge of "girlfriend things."
If someone had texted me a photo of this spongy thing a few months ago and asked me what it was, I'd have given them a silly answer too. It's all good fellas.
And even as the trend continues to spread, online makeup connoisseurs are seeking out other homemade alternatives that seem much easier and lots more fun to play with. Yes, even if they aren't all the most sanitary options in the world.
Hear are the top five weirdest beauty blender alternatives. Try at your own risk, of course.
1. Consider your bra.
They aren't just for pushing the girls up. If you own the kind that resemble chicken cutlets (just me?), then you're in luck. Pull one out, fold it up, and beat your face with your boob holder.
Try it for weirdness sake.
2. If you like eggs...
I prefer mine scrambled hard with salt and pepper and pork bacon on the side. But if you're feeling particularly experimental, then turn your breakfast into your beauty blender by boiling an egg, peeling it and then using it in place of the traditional sponge beauty blender.
Hope it works out!
3. Buy an extra stash of condoms for safe, ehh, application.
So you'll still need the traditional beauty blender for this, unless you really plan to go for it with that egg. Beauty vlogger, Laila Tahri, shared why it works in her video caption.
She wrote,
I love using a sponge but it absorbs so much product. With using the condom around it, HAHA, it doesn't absorb any product and it applies super smooth!
Another vlogger, Beauty Vixxen, also has a hack for when you forget your beauty sponge altogether. She suggests that you fill the condom halfway with lotion in a tutorial on her Youtube channel.
According to Beauty Vixxen, the lotion and condom combination is the "best technique" she's tried.
4. Risk your smart phone if you're super desperate.
No access to a gas station or high-priced drug store? No problem, if you don't mind volunteering your smart phone as tribute.
Just throw your makeup on the back of it and blend away.
5. Got a willing boyfriend? Use his testicles.
Yeah, as in balls. And yeah, a woman using her boyfriend's bare testicles as a beauty blender for her face actually happened.
Try this if you're interested peeps. From the looks of it, no one will report your social media post for nudity or anything.