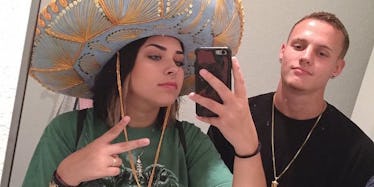 Girl Literally Uses Her Boyfriend's Balls To Put On Makeup And The Internet Is Shook
Twitter
I JUST WATCHED A PRETTY UNCOMFORTABLE MAKEUP TUTORIAL WITH MY OWN TWO EYES.
And because misery loves company, I'm going to share it with you guys.
On April 23, 2017, Johnna Hines, 18, of central Florida, was busy doing her makeup, while also hanging out with her boyfriend, 20-year-old Damon Richards.
Apparently, Richards (the jokester extraordinaire) decided that during Hines' makeup routine was the perfect time for him to play around by putting his actual balls on her head.
My idea of "playing around" is usually to tell some shitty jokes and then laugh at them myself, but these guys had to go and one-up me.
Hines then took to a Twitter poll to, you know, gauge everyone's interest in seeing her blend her foundation with her boyfriend's LITERAL BALLS.
Keep in mind, Hines' Twitter handle is literally "@punkzillaa," and that's a fitting handle if I've ever seen one because this girl is punk AF.
Clearly, her audience was VERY into the idea of this new beauty trend, as 59 percent of people answered with a resounding "LMAO yes."
Giving the people what they wanted, Hines stayed true to her promise, uploading an actual video of her actually using her actual boyfriend's actual balls to actually blend her foundation (WARNING: GRAPHIC, VERY, VERY NSFW FOOTAGE AHEAD):
TOLD YOU GUYS I WASN'T MAKING THIS STUFF UP.
Hines told BuzzFeed News, "He's always messing with me so he started putting his balls on my head. I made a joke about using them as a beauty blender and we literally just looked at each other and started laughing and made the video from there."
Obviously, Twitter as a whole had some thoughts. I had some thoughts, too, but they were mostly some variation of "OH MY GOD, THOSE ARE ACTUAL BALLS."
Some people were eager to be Hines' next test subject.
Most of us, like this person, were just very confused, and maybe scared, but also strangely mystified?
Some people are super inspired by Hines, willing to carry on her nutty legacy.
These are desperate times, you guys. We all do what we can.
BEAUTY IS PAIN, PEOPLE. GET OVER YOURSELF.
But at the end of the day, we can never forget how to properly care for our makeup equipment.
Fortunately, Hines doesn't care about the haters. She said, "I've gotten a lot of negative reactions but it doesn't bother me much because the amount of positive things people are saying to me make it worth it."
I'll admit, I am a little uncomfortable, but only because I think genitalia are kind of weird, and the sight of them puts me in a weird place.
But I'm not in the business of telling people how to live their lives. If Hines is chill, and her boyfriend is chill, then carry on, ballsy friends.
Citations: A Girl Used Her Boyfriend's Balls As A Beauty Blender And May Have Just Started A New Instagram Trend (BuzzFeed News)