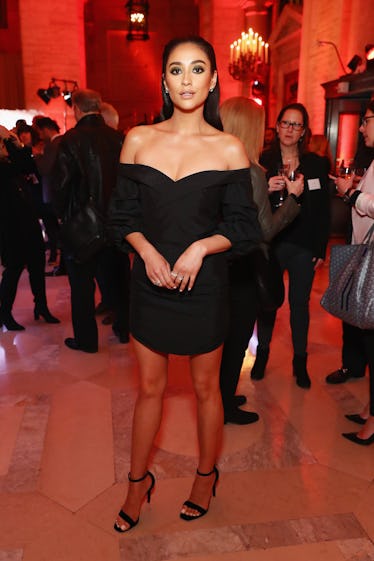 Shay Mitchell Revealed Her Skincare Routine & It's A Lot More Affordable Than You Think
Astrid Stawiarz/Getty Images Entertainment/Getty Images
Most beauty addicts can agree that pretty much all celebrities have amazing skin. Of course, many of them have access to the top dermatologists, facialists, and aestheticians around the world, so it makes sense that every time they make their way onto a red carpet, their skin is smooth and glowing. But if you're anything like me, you don't exactly have thousands sitting around to spend on weekly top-notch treatments, so it's refreshing when a celeb reveals their fave skincare products are not only affordable, but also easily accessible. Speaking to Glamour, Shay Mitchell revealed her skincare secrets recently, and in typical fashion, her answers were so practical and down-to-earth.
As for the best piece of advice she shared? Mitchell stressed the importance of having a regular routine. But the best part is that her favorite products in that routine can be found at most drugstores.
"Be sure to wash your face off — all your makeup, gone — completely every night," she told the publication. "I love the Bioré Charcoal Cleanser. It's my go-to. And then I make sure to exfoliate at least once a week. It doesn't matter how much makeup you have on top, you need to start with a good clean canvas. Oh, and wear sunscreen all the time. You need it whether you're inside or outside!"
The former Pretty Little Liars star also revealed the treatments she loves doing at home when she doesn't have time to book an appointment with the professionals.
"I love to have my own at-home spa day," she said. "I'll start by steaming my skin over a big bowl of hot water with lemon. I'll throw a towel over my head. Then I'll do a one-minute self-heat mask. I set the environment so it feels like I'm re-creating a spa at my house too."
She added that this process is certainly a lot cheaper and easier, and she'll even make it fun by inviting her friends over to join in. (Soooo, how do I become Shay Mitchell's friend, then?) Oh, celebrities. They're just like us.
Her own skincare routine aside, the 31-year-old also spoke up on the problems within the beauty industry and the importance of celebrating our differences. "All the filters on social media we use, everybody is so concerned about looking like that in real life," she explained to Glamour. "I think those are fun, but let's all realize that they're filters. It's actually beautiful when you can see lines and different things that set us apart. Having everybody be themselves is something that should be celebrated."
The Toronto native seems to be quite comfortable in her own skin now, but in the past, she's been refreshingly open about her struggles with beauty, self-confidence, and acceptance. Back in her high school years, Mitchell said she once tried to hide her Filipino heritage and features in an effort to better fit in with her peers. The star even shared that she went as far as dying her hair blonde, wore color contacts, and avoided the sun to keep her skin pale. But in June of this year, Mitchell confessed to Refinery29 that trying to change who she was was her biggest beauty mistake to this day.
"When I looked at magazines, I thought, 'I don't look like any of these girls,' she recalled. "In high school you're comparing yourself to other people, you're growing up at a rapid pace, and everything is kind of new."
Learning from her own struggles, Mitchell now encourages girls to embrace who they are. "Celebrate your unique look, whatever that is," the actress said. "Celebrate that, make it yours. For me, makeup isn't about hiding anything — it's about accentuating your natural beauty."
Mitchell's honesty is so refreshing at a time when there's pressure not only from peers, but also the internet to look perfect. Hopefully more down-to-earth celebrities like her will continue to spread not only positivity, but affordable options to help everyone achieve their skincare goals.