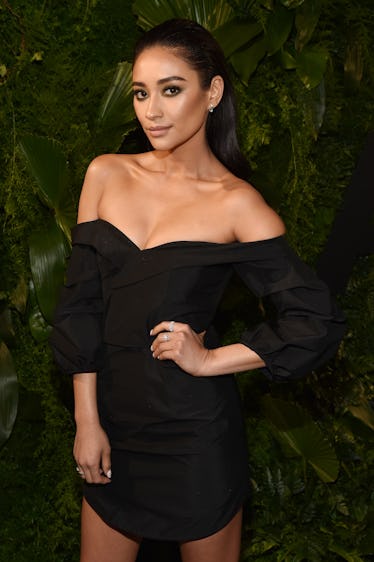 Shay Mitchell Shared Her Heartbreaking Struggles With The Lack Of Asian Representation In Beauty
Bryan Bedder/Getty Images Entertainment/Getty Images
Former Pretty Little Liars actress Shay Mitchell's thoughts on representation in beauty are pretty heartbreaking. But unfortunately, these sentiments are not at all shocking — especially to women of color. Looking from the outside in, it's hard to imagine the stunning 31-year-old Canada native would have ever struggled when it came to beauty. But in an interview with Refinery29, Mitchell discussed her past woes with her looks, her fight to fit in, and her exciting new role as the Global Creative Brand Ambassador for Buxom.
Back in early 2015, the star opened up to Yahoo! Style about once trying to hide her Filipino heritage when it came to her beauty habits, Page Six reported.
"I hated being asked who I was, and all my friends had blond hair and blue eyes," Mitchell confessed at the time. "That girl wanted to be something she wasn't," she added.
She continued that this hatred caused her to dye her hair, wear color contacts, and also avoid exposing herself to the sun in order to keep her skin as pale as possible, so she could fit in with her friends — the standard media representation of "beauty" we've all come to know.
Thankfully, she's come a long way since her teenage years and can now identify what exactly made her feel ashamed of her natural looks. To no surprise, it was lack of representation.
"When I looked at magazines, I thought, 'I don't look like any of these girls,' she shared with Refinery29. "In high school you're comparing yourself to other people, you're growing up at a rapid pace, and everything is kind of new."
She also admitted that, looking back years later, feeling this way was her biggest beauty "mistake."
So what's her advice to other Asian girls who are growing up not only with peer pressure, but also in the age of social media and Instagram, where the pressure to look or act a certain way is stronger than ever?
"Celebrate your unique look, whatever that is," she said. "Celebrate that, make it yours. For me, makeup isn't about hiding anything — it's about accentuating your natural beauty."
Back in 2017, Mitchell also opened up to StyleCaster about insecurities, emphasizing that the idea of perfection is something we all need to let go of.
"Everyone has insecurities. I don't care who you are," she told the publication. "I've never met anybody who is completely happy with every single thing. It's about acknowledging the fact that we're all different and celebrating it."
Despite her teenage years being long over, the lack of representation for Asian women is still a problem across the board. But there are some key figures in the beauty industry who are taking a stand to switch things up.
For Allure's June issue, editor-in-chief Michelle Lee — who's always made inclusion a priority — released three covers, all featuring Asian models.
Fernanda Ly, Soo Joo Park, and Fei Fei Sun all looked breathtaking in the spotlight. But for Lee, this was a part of her own personal mission. In her editor's letter, she revealed that, before these issues dropped, it had been 18 years since an Asian woman had covered the well-known beauty publication, and out of over 300 issues, only two Asian women had ever been the cover stars.
"My preteen self couldn't even fathom seeing an Asian face on the cover of a mainstream magazine or leading a TV show or headlining a movie," she wrote. "So being able to feature three game-changing Asian models, especially after a pretty sad track record, has significant meaning to me...and I hope to you, too."
As for Mitchell's partnership with Buxom, the actress will be an active collaborator with the global cosmetics brand. She will also work to create content, along with participating in social media campaigns and helping the brand out with creating even more fun products and shades.
"I've kept BUXOM products in my makeup bag for years and I can't wait to share my love for the brand," she said in a press release. "I'm obsessed with beauty and excited to help BUXOM move into new makeup categories that I love and use every day."
Certainly, given Mitchell's commitment to encouraging her fans and followers to embrace who they are — heritage and all — she'll have diversity for all in mind.