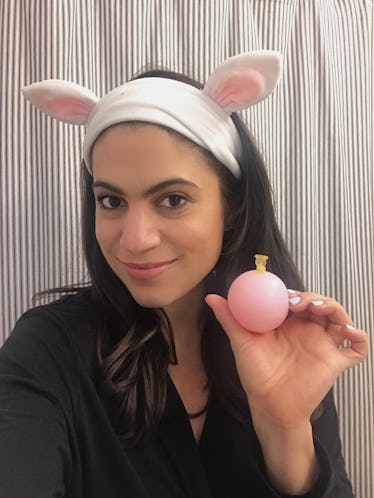 I Tried A Jelly Ball Cleanser & I've Never Had More Fun Washing My Face
Lauren Levinson
When I got ready to do this Bliss Jelly Glow Ball Cleanser review, my thoughts went in this order: It looks like a boob, cool (!), and I can't wait to try it. First thing is first: I put on my test bunny ears, and cupped the bouncy millennial pink ball in my palm, ready to take off a full face of foundation, brow pencil, eyeliner, and mascara.
The Jelly Glow Ball ($16; blissworld.com) is not the first skincare-stuffed water balloon. The Boscia Charcoal Jelly Ball is similar, but it's still a growing category as most brands sell their face washes in traditional tubes and jars. So I'll give Bliss some brownie points for being innovative. Also, the pale pink ball looks perfect next to my Glossier Body Hero cream for those 'grammable #shelfies.
"Bliss has always made products that are not only effective, but provide a unique, fun experience," Susana Escobar, head of product innovation at Bliss tells Elite Daily.
This particular product was inspired by the wide variety of new cleansing forms cropping up in Asia. Its unique jelly ball format provides a modern, effective cleanse — reaching all the contours of the face and boosting surface cell turnover. Plus, like all the entire new product lineup, it's 100 percent cruelty-free and free from parabens, phthalates, SLS, SLES and more.
This brings up an important point: Bliss just revamped its entire collection of products, bringing the price point down to the drugstore level while making the formulas more holistic. Iconic staples like the Lemon & Sage Body Butter (which you may know if you've ever worked out at Flywheel or stayed overnight at a W Hotel) and the Triple Oxygen Self-Activating Facial have the same scents and/or concepts as the originals, but with improved ingredients. There's also a standout lineup of newbies, including the Jelly Glow Ball, the Jolly Rancher-scented What a Melon Reviving and De-stressing Overnight Mask, and the pearlescent Ex-Glow-Sion Super Rich Moisturizer. Everything is available now on the Bliss website, on Ulta's website, and at Target stores.
Now, let's get into the basics for how this festive little ball works: To access the serum, you harness the provided toothpick to puncture a designated hole in the side. Make sure not to throw the pick away, as I found it helpful to nudge more gel out if it got stuck. I was worried the whole thing would explode — and I'm the clumsy type who spills red wine on everything — but I managed to avoid any mess. Clean freaks, don't be turned off.
"The balloon is an outer protective casing for the actual Jelly Glow Ball to ensure the formulation stays fresh and protected until it's ready for use," Escobar explains. "There is no risk of the balloon or ball exploding as the ball itself is a solid jelly form."
Once I opened it up, I was able to squeeze bits of pink gel out. You can activate the formula in two ways: You can massage the ball directly onto your damp face in a circular motion (so soothing) and then rinse it off with water. Or, put some formula into your palm, add water to make it transform into a foam, and smooth that over your skin. I gave both methods a whirl, and found the latter to be easier.
The foam itself felt like a familiar airy face wash, and I appreciated that a small amount went a long way. I doubled cleansed, which took all of my makeup off, especially if I focused around my eyes. In the end, I was left with a squeaky clean, but not overly-stripped or dry, feeling on my skin.
While the scent is a subtle geranium, it comprises different ingredients. The hero is lychee extract, which is a vitamin C-rich antioxidant known for its brightening properties. It also boasts the extract of reishi mushrooms, a rare Japanese shroom that is super-hydrating and improves skin texture overtime. Tamarindus Indica Seed adds more nourishment and is considered to be a natural alternative hyaluronic acid.
The best part: the Jelly Glow Ball lasts for up to 45 days, and it deflates a little each time you suds up. How fun is a slowly-shrinking balloon waiting for you at the sink every night?
I recommend keeping the plastic container it comes in to use as storage, and Escobar warns not to let it sit in water. Will a boob-shaped face wash stack perfectly with your KonMari-ed products? Maybe not. But it's absolutely worth giving a go if you just want to have more fun cleaning your face — or make a viral YouTube video!
Plus, your skin will be glowing for that "after" photo.