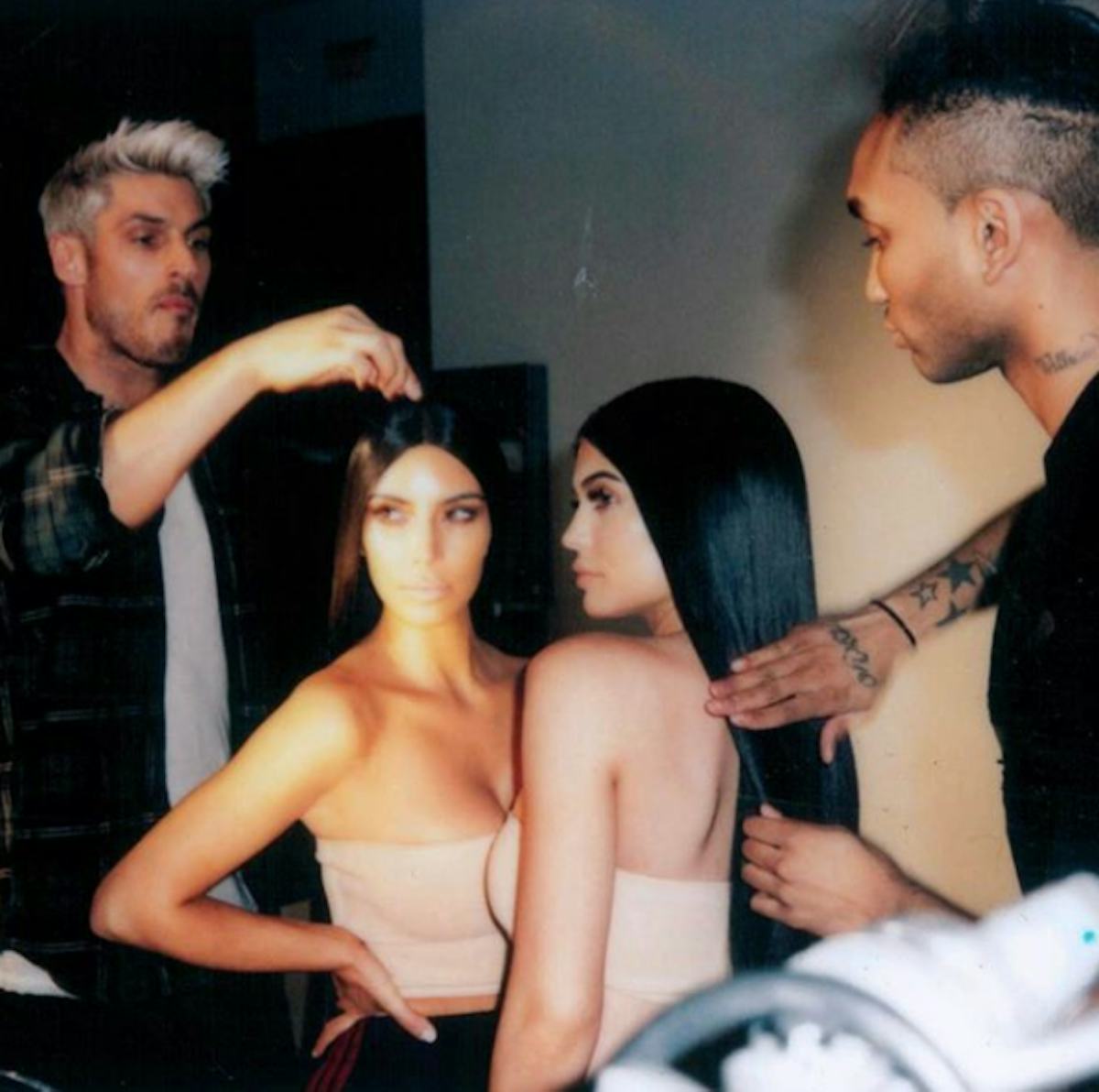 Kim Kardashian Is Launching A Lip Kit, But It's Totally Different From Kylie's & You Need Both
In case you haven't been on any beauty-based social media sites in the past few days, let me lay some groundbreaking news on ya: Kim Kardashian West is launching lit kits, and its breaking the internet more than her infamous bootylicious Paper Magazine cover. You may be thinking a KKW Beauty Lip Kit Vs Kylie Cosmetics Lip Kit duel will ensue, especially because Kardashian West is the older sister of the queen of the lip kits herself, but that's surprisingly not the case.
At first glance, it may seem like KKW Beauty's Ultralight Beam lippies are on their way to snatch the Calabasas crown right off of the youngest Jenner's wigged head, but don't think for one second that this new launch is going to cause a feud between the sisters. When you take a closer look at the lip kits, it's easy to see that the two launches are just as different as Kim Kardashian West and Kylie Jenner are. Yes, they're both lip kits, but each really represents the aesthetic of the given sister. When you look at the two sisters, and consider their preferences (especially when it comes to makeup), it's plain to see their inspiration is vastly different. TBH the two lip kits are so unalike, you might just need to buy both and use them together to create one super-duper glam Kardashian creation.
Let's get started with a thorough breakdown of the best-selling stand-by, the Kylie Cosmetics Lip Kit ($29; kyliecosmetics.com).
Before there was Kylie Cosmetics, there was Lip Kit By Kylie. When Kylie Jenner first launched her lippies back in Nov. 2015, she released three nude shades: Dolce K, Candy K, and TrueBrown K. The products were only available in kit form, with a liner and corresponding liquid lipstick, which cost $30 for all.
To the surprise of no one, Jenner's lip kits sold out immediately. Those lucky enough to get their hands on a set either cherished it, or put it on eBay for over ten times the original. Economical AF.
Now it's 2017, and Jenner's makeup brand has come a very long way. Fans obsess over a full range of shadows, blushes, highlighters, glosses, single liners, and liquid lipsticks from the makeup mogul, but of course, her Kylie Cosmetics Matte Lip Kits ($29; kyliecosmetics.com) are the backbone of the collection. Each of Jenner's classic kits comes with a lip liner ($14; kyliecosmetics.com) and liquid lipstick ($17; kyliecosmetics.com). The Lip Liner allows customers to overline and create the illusion of fuller lips, while the liquid lipstick gives the matte stay-all-day finish popularized by Jenner herself. Jenner does offer richly-pigmented lip glosses that are, for the most part, pretty opaque, but those do not come in kit form.
Now, let's take a look at sister Kim's KKW Beauty history.
Just like Jenner, Kardashian West launched her makeup line with the cosmetic item that she was most notoriously known for: Contour. Let's be real, Kim Kardashian West's face was the face that launched a thousand contour products, so it's only fair that she eventually got a piece of the pie. So KKW Beauty was born with the initial launch of the Crème Contour & Highlight Kit ($48; kkwbeauty.com) and Powder Contour and Highlight Kit ($52; kkwbeauty.com).
Nearly six months passed, and KiKi followed up with the KKW Crystal Gardenia ($60; kkwfragrance.com) fragrance collection, which includes three riffs on her favorite flower, gardenia.
Now, only weeks after her fragrance launch, Kim Kardashian West is up to bat and taking her crack at the Lip Kit.
Don't expect a bright, matte style though, because Kimmy is known for her neutral lip looks. The KKW Beauty lip kit is pretty much the antithesis of her sister's. Overall, KKW Beauty's lip kits echo the chic minimalist beat that its creator has been rocking for years now.
The Ultralight Beam Lip Kit ($32; kkwbeauty.com) comes with a gloss for the lips, and a shimmery highlighting powder that you can use anywhere on the face. Unlike the majority of Kylie Cosmetics glosses, the KKW Beauty glosses are sparkly and sheer, allowing a lot of natural lip tone to show through. There are five tones that will be available come Dec. 1 at 12 p.m. EST: Iridescent, Rose Gold, Yellow Gold, Copper, and Bronze, but even the deepest (Bronze) is still just a wash of sheer color on the lips.
The KKW Beauty Lip Kit is all about glow factor with a soft, natural tint. The Kylie Jenner Lip Kit, in comparison, is matte to the max and allows you to enhance and dramatize your natural features.
Though both Kardashian/Jenner sisters have found their footing in the cosmetic industry with lip kits, the two sets couldn't be more different. So why not layer a little KKW Beauty Ultralight Beam gloss over a stay-all-day Kylie Cosmetics Liquid Lipstick? With double the Kardash power, the glamour limit does not exist.