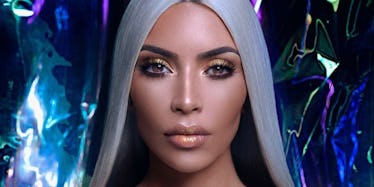 Kim Kardashian's Ultrabeam Light Highlighter & Gloss Duos Are Dropping Super Soon, So It's About To Get Lit
KKW Beauty
Nov. 28, 2017 will likely go down in history as the day that Kim Kardashian West covered herself in glitter to promote her latest batch of KKW Beauty launches. The dramatic move has fans in a tail spin, wondering when KKW Beauty Ultralight Beams launch. Spoiler alert: It's sooner than you think.
First, there were Snapchats from famed beauty blogger Huda Kattan. Next, Kardashian West's favored makeup artist, Mario Dedivanovic, gave his own preview of the glittery goods. And then, the world stopped: Kardashian West posted official photos on her KKW Beauty social media accounts to let the world know that she was not playing around. These weren't just any old promotional photos, you know we're talking about Kim Kardashian West, right? She's the queen of the fire nude selfie. More on those later, though, because I'm here to tell you that the Kardashian gods (Or is there just one Kardashian God - Kris Jenner?), have announced that these ultra sparkly, ultra glittery, ultra extra, Ultralight Beam lip glosses and highlighters are dropping this week.
Mark your calendars, bust out your credit cards, do what you gotta do, but get ready to move fast, because there is little doubt in my mind that the innovative lip gloss/highlighter duos will sell out in literal seconds.
The Glittery Goods
From left to right, the glimmery shades are Iridescent (an opalescent pearl), Rose Gold (a light rose gold), Yellow Gold (a light gold), Copper (a rosy copper gold), and Bronze (a warm gold bronze). Each metallic shade comes in a lip gloss, and accompanying loose highlighting powder. Notice how there are five pigments and there are also five Kardashian/Jenner sisters. Coincidence? I think it actually probably is.
As Kimmy's fav pro MakeupByMario has taught us, the glosses are primarily for your lips, but can also be mixed with the loose powder and used as a cream eyeshadow. The highlighter powders are flexible, and you can use them dry or mix them with a moisturizer and apply them pretty much anywhere from your cheeks to your décolleté.
My girl Kim went for the all over approach, naturally.
Kardashian West's nails are also looking rather shiny, so perhaps you can mix the highlighter powder with nail polish. OR, maybe sparkly lacquer will be her next product launch?! Omg please do nail polish next, Kiki, please!
The Fine Print
Come Friday, Dec. 1 at 12 p.m. EST, you can purchase the full collection as a set for $160, or the matching duos of glosses and powders for $32 each, on KKW Beauty's website. As of now, you unfortunately can't buy just a gloss or just a powder, meaning no mixing of the various metallics unless you throw down for the full set. But considering how much use you can get out of these products, it's an offer I might not be able to refuse.
From Kim's Lips To Yours
Kardashian West wasted no time playing favorites with her not-yet-released products — the social media-turned-beauty mogul admitted, "I like the bronze and the gold the best." She also gave insider tips to Bustle on how to use the glitzy products.
I love making the highlighters wet and then applying it — it makes it really intense. And you can even apply the gloss on top of the pigment to have a really intense wet eye if you wanted a richer glitz."
Mrs. West noted that the glosses are a bit more understated:
The lip glosses are pretty sheer, so they have speckles of pigment in it and like a little bit of the glitter, so they look just like a juicy lip. They don't look like they have tons of full coverage. They are pretty sheer. When I'm at home, I do love to wear a sheer, kind of glitzy lip."
When I'm at home, I like to wear lip balm and sweatpants, but more power to you, Kimmy.
If you're not already jonesing for these legitimately star quality products, take note of how Kardashian West named them basically as a love note to her husband Kanye West. The world is officially a shinier place.