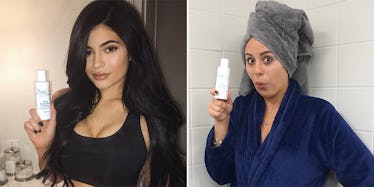 I Tried Kylie Jenner's Face Wash For 3 Weeks And My Skin Looks Better Than Ever
Instagram/Kylah Benes-Trapp
Kylie Jenner saved my life, and I'm here to tell the tale.
Before I dive deep into this story, let me introduce myself.
My name is Katie, I'm 23 years old and I consider showering an accomplishment. Maintaining personal hygiene is EXHAUSTING and probably burns more calories than working out.
Trust me, when you have to shave legs as hairy as mine, it breaks a goddamn sweat.
If I'm being even more honest, I just invested in a loofah for the first time the other day, so, uhh, let's make this a judgement-free zone. K?
ANYWAY, it was a typical Tuesday morning, 6:15 am to be exact. My alarm went off eight times before I answered, and there was drool all over my face.
Boys, stay with me. It only gets hotter from here.
I'm one of those people who either takes six hours to get ready in the morning or rolls out of bed looking like a troll.
But 90 percent of the time, it's the latter, which is why I've probably been alone for the last six years.
This isn't about my dating life, unfortunately (unless you're single haha, hmu), this is about my face.
While I was standing in the shower like a butt naked zombie, I knocked over my seven dollar CVS face wash and spilled it all over the floor.
DO YOU KNOW WHAT I COULD BUY WITH seven dollars? Like, a fancy granola bar... or a few bags of chips.
Totally kidding about the granola bar, by the way. That shit's too healthy for me.
It was 6:30 am at this point, and I was tired, naked and pissed. I also had a giant zit on my chin that looked like Demogorgon from "Stranger Things."
Yo Eleven, can you use your mind to zap away this bitch?
Later that day, while I was scrolling through Instagram, I came across this lovely pic of Kylie Jenner in the bathroom. You know, it's casual!
I look like that in a sports bra, too.
She captioned the photo,
About to wash my face with @Pureleef's new facial cleanser exfoliator. It's one of the best cleansers that I've tried! There are no harsh chemicals and I feel like I just had a facial every time. I can't wait to use it tonight  Go to www.pureleef.com to see their new product line!
"HMMMMMMMMMMM," I thought. Is this how Kylie Jenner maintains soft, flawless skin? IS THIS HER BEAUTY SECRET?
It seems like Kylie always has perfect skin -- minus that ONE TIME she got a pimple. Throwbackkkkkk. Remember that?
Best day of our lives. (JK.)
(Not JK.)
The reality star also is a multi-millionare, meaning I guess she can afford to have stylists and special treatment when it comes to looking nice.
Me? Well, I have 12 dollars in my bank account on a good day so I guess we're living somewhat different lives.
I did, however, find enough spare change to buy PureLeef's exfoiliating face wash, and that's exactly what I did.
Kylie Jenner, I'm coming for ya. IT'S TIME TO MAKE ME YOUR TWIN!
I ordered the face wash online and it came within a few days. SWEET, thanks PureLeef. Way to hook a sister up.
The cleanser claims to be an "exfoliator," but it doesn't have any microbeads in it. You know, those little balls that feel good when you scrub them on your face.
I guess that's a good thing, though, since those are apparently terrible for the environment. One point for PureLeef!
The wash is blue and smooth AF. It looks like a liquid hand soap but has a thicker consistency. As soon as you massage it into your face, it turns white.
~LIKE MAGICCC~
The website suggests you use the face wash nightly, but I'm a morning showerer (and also a badass) so I decided to break the rules.
I applied the wash to my skin every morning for three weeks and saw some awesome results. I don't even have to lie to you people because it really did work.
Here's the deal.
First and foremost, the greatest difference I saw in my skin was how much softer it got.
I've used everything from St. Ives to Neutrogena and have never been left with cheeks this smooth and doughy.
I've never touched a baby's ass before, but I imagine their buttcheeks feel somewhat like my face after using this product.
On top of that, my face definitely felt moisturized. I usually have dry and oily skin (FML, right?), and this product provided relief without clogging my pores.
IS THIS A DREAM COME TRUE OR WHAT?
Look, if I'm being completely honest, using this face wash wasn't only rainbows and butterflies...it's compromise that moves us along, yeah...
I'm SORRY.
Anyway, as the website explains,
This product works by bringing out all impurities and bacteria in the skin, exfoliating dead skin cells and recreating refined, new, glowing skin. Therefore it is possible to have some minimum breakout and light peeling to occur within the first 2 weeks of use. This is a positive effect of the product to generate new skin cells. If extreme irritation or redness occurs, minimize use to every other day or discontinue use completely.
I'mma be real for a sec. After a week of using the face wash, I noticed a breakout on my chin. I kept using the product, as directed, and eventually the pimples went away completely, and my skin looked better than ever.
So here's the thing. If you have plans to go on a date or need some quick fix to heal a breakout, I don't recommend you use this product. It's not gonna be a quick zit zapper or overnight solution. It takes a few weeks to see results.
If you're like me and haven't shaved your legs in months and literally only make out with guys when you're blackout in the basement of a pitch black bar (aka, you have zero people to impress), then this face wash is everything you need.
I even got an expert opinion on the matter by reaching out to Dr. Sejal Shah, a NYC dermatologist from RealSelf.
Dr. Shah told me she would potentially recommend this product depending on the individual's skin type and skin concerns. She explained,
Glycolic acid washes are great for oily, acne-prone skin. Because they provide some mild exfoliation they can also help even skin tone and provide some antiaging benefit as well as improve the effectiveness of products you apply afterwards. If someone has dry, sensitive type skin this type of wash may be too drying, even though it's a relatively low percent of glycolic acid.
Dr. Shah suggests you use daily SPF in addition to a gycolic acid product because the skin may become more sensitive to the sun.
I also confirmed with her this product has no obvious red flag ingredients. Dr. Shah responded,
No obvious red flags. It does contain grapefruit peel oil and some people can have skin reactions to citrus oils.
GOT IT. Thanks Dr. Shah. See, you guys! Kylie Jenner knows what's up. My girl can be trusted. MY GIRL IS A HERO!
Ugh, I love her so much.
So, my friends, that's the story! Now only one question remains.
Do I REALLY look like Kylie Jenner?!?! TRUTHFULLY?
The answer is yes, assholes. Just take a few steps back and squint your eyes. Then, the resemblance is uncanny.
PS. This isn't the first time I've tried a Kardashian-approved product. Check out my other experiments below.
I Tried Kylie Jenner's Favorite 28-Day Teatox And Lost 15 Pounds
I Wore Kim Kardashian's Waist Trainer For 30 Days And I'll Never Be The Same
I Took Kylie Jenner's Favorite Vitamins For 3 Months And My Hair Grew 6 Inches
Citations: Face Wash Bad For Environment (News Week)