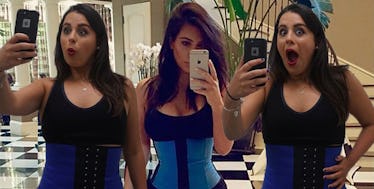 I Wore Kim Kardashian's Waist Trainer For 30 Days And I'll Never Be The Same
Instagram/Kylah Benes-Trapp
I feel like Kim Kardashian and her waist trainer are actually best friends.
The Keeping Up with the Kardashians star seems to love nothing more than exercising — well, mostly just posting selfies — in a tight corset that's probably crushing her organs.
Forget Saint and North West. Kim K's real baby is that heap of fabric stapled to her waist.
As someone who hates exercise more than life, I can't relate to this feeling.
I'd rather have 1,000 birds peck my eyeballs out than set foot on a treadmill. Completing the mile run in middle school was the bane of my existence. Any sort of high-intensity training is my equivalent of death.
I'M LAZY, OK? I KNOW IT.
I'm not going to apologize because I prefer eating a cheesecake over taking a SoulCycle class.
I love food more than I love people. I have no shame.
Here's a little more ~background info~ on me. I'm the Senior Entertainment Writer at Elite Daily, AKA, I spend my days stalking the Kardashians on Instagram.
It's the best thing that's ever happened to me, really. I care more about Kylie Jenner and Tyga's relationship than I care about my own family.  I know who Khloé is dating at all times and what Kourtney's posting on Snapchat.
THESE GIRLS ARE MY FAMILY NOW. And family sticks together.
I also get a lot of beauty and workout inspiration from these ladies.
What's Kendall wearing? I'll buy it.
What's Khloé eating? I'll order it on Seamless.
I also noticed Kylie Jenner was doing a 28 Day Detox with Fit Tea, so I bought it off Amazon. Here's the crazy part: I lost 15 pounds.
Yup, I'm serious. Fit Tea changed my life. So now, I'm up for trying anything.
OK, back to waist trainers. While stalking the Kardashians, I realized every single one of the sisters wears one while working out.
That's when it hit me: If I wore a waist trainer for 30 days, would I look just like a Kardashian? Would people on the streets confuse me for Kim K?
I ordered an Hourglass Angel waist trainer, and immediately got started.
If I'm being honest, when the waist trainer came in the mail, I was confused AF. I ordered a size large, OK?
HOW THE HECK WAS I SUPPOSED TO FIT ALL MY STOMACH ROLLS INTO THAT LITTLE THING?
Here's what my experience was like on the first day of wearing the waist trainer:
Yup, squeezing all my body fat into a corset was probably the hardest challenge of my life. I'm honestly a stronger person after this: both mentally and physically. (Seriously. Check out my biceps.)
Putting on the waist trainer was enough of a workout for the first day, so I rewarded myself with a snack. Barbecue potato chips are the bomb, yo.
All right, so Hourglass Angel let me in on how waist training works. The basic idea is that you wear it during your workouts. Because it holds all your fat in place and pushes those jiggles DOWN, you can focus your training on the core muscles.
They didn't explain it to me exactly like that, but you get the idea. It's time to get a six-pack. Let's do this.
As I mentioned earlier, I HATE exercise. But if I wanted this puppy to work, I needed to get to the gym.
I already look so much like Kim Kardashian. The waist trainer is working, you guys!
It was much easier to go running outside because the fresh air kept me from passing out. When I thought I would faint, I just breathed in the smell of sewer water and street meat.
Haha, I'm kidding. Wearing a waist trainer isn't that uncomfortable. After a couple of minutes, I actually got pretty used to it.
Soon enough, people on the streets started mistaking me for Kim Kardashian. Seriously. Stop staring, everyone. No autographs, please!
I worked out for an hour about three times a week for a total of four weeks. Wow, that's a lot of hours. Should I be a fitness model now?!
After a month, I noticed several things happen to my body. First, I started to have excellent posture. My eyes suck and I stare at a computer all day, so my back normally kills me after work.
But when I started wearing the waist trainer, I stopped having pain in my back. I can sit up straight now, so that probably makes me look a little more attractive. (Right?)
On top of that, I sweat so much more while wearing the trainer. My midsection was drenched after running two laps.
SWEATY GIRLS ARE HOT. Just watch those Gatorade commercials.
I noticed my bloating go down too, and I ultimately felt much thinner. I ended up losing a couple of inches off my tummy, so HELL YEAH.
Boys, come at me.
Trying on my waist trainer was a great way to track my progress, too. Four weeks ago, I had to lie on my back to put the damn thing on. Now, I can do it while standing. (It's the little things, you know?)
In the end, I think the hardest part about waist training was going to the gym and um, remembering to wear it. Sometimes, I forgot it at home and just went to Dunkin' Donuts instead.
I would definitely work out with a waist trainer again, but mostly just for when I have to look good for an upcoming event.
I don't think my organs moved at all, and my health seems fine. I haven't been to the doctor in over a year, though. So who really knows what's up with my insides?
Thanks for being my inspiration, Kim Kardashian! I'm honored to be your twin.
As a disclaimer, I'm not a dietitian or an expert or even a real model. I'm just a girl who likes to eat. Someone pass me the cream cheese.
P.S. This isn't the first time I've tried to be like the Kardashians. Check out my other experiments below.
I Tried Kylie Jenner's Favorite 28-Day Teatox And Lost 15 Pounds
I Took Kylie Jenner's Favorite Vitamins For 3 Months And My Hair Grew 6 Inches
I Tried Kylie Jenner's Face Wash For 3 Weeks And My Skin Looks Better Than Ever
I Got Hair Extensions To Be Like Kim Kardashian And Now I Look Better Than Ever
I Wore Butt Pads For A Day To See What Life Is Like As Kim Kardashian