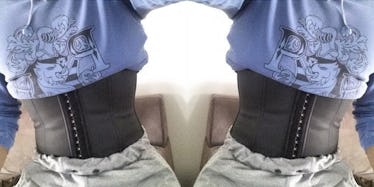 Move Over, Kim K: Why Some Men Are Taking On The Waist Training Trend
Let's talk about waists, baby.
Women might claim the majority of Internet-based body shape discussions, but it's the men who intrigue us.
Although the corset was brought into the mainstream by women, men are starting to appreciate its supportive qualities, too. In fact, the waist trainer seems to be the next fad on the horizon for the other sex.
Early last year, female celebrities began posting a curiously synchronized wave of Instagram selfies featuring waist cinchers and trainers. The latex body wraps — a little less intense than their steel-boned cousins, the corset — took off like digital wildfire.
Within months, it seemed as if every social media queen had her waist trainer. New mothers like Kim Kardashian claimed it helped them reclaim their post-baby bodies, and those looking to drop weight swore by sweating it off in these tight contraptions.
Gender equality has come a long way, but not far enough that men are popping babies out of tiny body orifices. So what gives?
Although experts hotly debate the health concerns posed by such a constrictive garment, waist training enthusiasts maintain the practice can be safe if undertaken slowly. Newbies, looking to whittle their midsection, begin by wearing the corset for an hour or two each day. Soon, they work up to handling the habit as a part of everyday life. Starting with the loosest set of hooks, Dita Von Teese wannabes aim to tighten up within months.
The primary appeal of the waist trainer is the silhouette created: an effortless S-curve on women, one that's rarely created by Mother Nature without a little extra aid. The trainer's fabric pulls in rogue stomach and back fat, straightening the spine.
Today, men and women alike ogle images of Ryan Gosling and Chris Hemsworth, -- 2015's answer to Michelangelo's David -- and it's easy to see why men might seek to hop on the body-shaping trend. In an era of selfies, sexts and casual shirtless flings, our looks mean more to us than ever.
Some trendy, urban gay men eagerly embrace the style.
Wondering who around you might be taking on the waist training challenge? Look to Millennial gay men, many of whom are eager to embrace social media trends.
Comedian Nicky Paris, 22, purchased his $80 waist trainer several months ago in hopes of being a trendsetter amongst his friends. He says the confining garment -- which claims to wear eight hours a day -- gives him a slim silhouette without having to buckle down and rip out 1000 crunches every day. His figure has changed and, as it does, the compliments come rolling in. As someone who's often in front of a crowd, he'd rather not worry about his body insecurities.
Paris said he even wore the trainer on a recent trip to the tropics, and noticed a tightened silhouette, adding,
I went to Miami and I was looking at my pictures on the beach, I was like, 'Oh my god, I look like GQ model!'...This is new turf for me.
NYC HR representative Joey Lehan, 24, echoes Paris's sentiment. He ordered the $40 latex corset after seeing Kim Kardashian's on Instagram and witnessing female friends purchasing their own. He says he loves the hourglass silhouette she's made so famous and claims to notice a difference in his posture after only weeks of wearing the waist trainer.
Lehan, who describes his body type as "curvy," told me,
I really feel like the 'Kim Kardashian body' for gay guys is going to be a new thing...to have that hourglass figure.
Although some men may appreciate this new trend, texts sent out to a few gay, twenty-something friends resulted in mixed opinions. One humorously even wondered if wearing latex was really any more flattering than proudly showing off a muffin top. It's all in personal taste, really.
Male corsets go way, way back -- really.
In fact, men have a lengthy history of strapping on stays. The styles of the Minoans, ancient residents of Crete, featured exaggerated silhouettes for both men and women. That hourglass look, of course, called for a rigged-up corset to cinch the middle of the body.
Even in the late 1700s, society dandies relied upon boned male corsets to keep their posture ballet straight while smoothing out the lumps and bumps of their fancy dress. Instead of crafting a painstakingly curvy silhouette, the male corset mostly acted like antiquated Spanx.
Although you may never have seen a man in a waist cincher, that doesn't mean they're not all around you. They hide beneath sweaters, suits and casual wear. Some custom corset purveyors even provide niche waist trainers specially designed to help male transsexuals reshape their frames into a genetically female frame, working as part of the transition process.
Drag queens and fetishists love a good waist cincher.
The style is especially critical for men who pursue drag as a hobby since the rectangular torso of the male body doesn't easily echo the female hips and waist. Instead of just relying on padding to create the illusion of an hourglass, drag queens usually strap on latex or boned corsets.
Sucking in their stomachs and hooking tight fasteners is probably the least uncomfortable part of their transformation, which includes taping the genitals between cheeks of the derriere -- also known as the "tuck and tape." After that, anything seems easy.
And while the men of drag clubs wear the lingerie as a costume, it's more of a sexual preference for others. Men who enjoy strapping on a garter belt, stockings and corset as a fetish are far from rare. The internet is packed with websites catering to the serious cross-dresser, honing his hourglass figure and bracing him for pleasure behind clothes doors.
Even weightlifters hop on the corset train.
It's not just men in stripper boots online-combing Amazon for a deal. The waist trainer has plenty of male fans in the health and fitness world, too. The tight fabric or boning helps straighten the spine, which opens the lungs and keeps the body in a more streamlined position.
You'll find the fitness "girdle" or "belt" on weight lifters and the like, helping to improve their form and keep muscles supported while lifting a weight twice our size. It seems the change in label makes men feel slightly less like they're copying a female fan favorite.
Fitness gurus are often considered the paragon of masculinity, judging by their muscles and ability to lift weights the size of small humans. Their confidence in wearing the garment should prove, once and for all, there's no shame in the tummy-snatching game. It even makes the shoulders appear broader, actually amping up the male silhouette we love to idolize.
Men, from every background and sexual orientation love the corset. All that's left is for you to get on board with their waist-training groove.
Editor's note: Interviews have been edited for length and clarity.