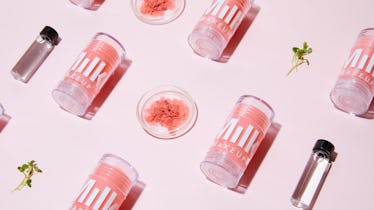 This New Brightening Serum Is Like A Watermelon Push-Pop, So Time For Juicy Skin All Summer
The coolest brand in the beauty industry just got even cooler, thanks to a new ingenious launch that's so good it's bound to spur an onslaught of copycat products. Milk Makeup's Watermelon Brightening Serum is not only incredibly cute — then again, what product by the brand isn't — but incredibly convenient and legitimately good for your skin. As Milk's first solid serum, it's innovative, too. Get excited, because watermelon season is right around the corner.
I love Milk Makeup for its oh-so-millennial packaging and branding, as well as its products that think outside of the box. Its Tattoo Stamps, which are like little felt tip pens that come in shapes including a moon, a star, a smiley face, and a heart — are the perfect playful product to bring along to music festivals, while Milk Makeup's Holographic Sticks, which come in three shades, provide an otherworldly shine. All of the brand's offerings encourage individuality and bold looks thanks to its outrageous colors and finishes; its motto, "live your look," says it all.
Clearly, I'm, a huge fan of Milk's. So when I read about the new solid serum, which comes in the same clear cylindrical tube as its highlighters, Blur Stick, and more, I was naturally stoked. "Every [serum] we saw on the market was in a glass bottle with droppers," Dianna Ruth, product developer and Milk chief operating officer, explained to Allure. "They were really frilly and not easy or portable." And thus, the idea for the solid stick format of the serum was born. Ruth compared the Watermelon Brightening Serum to Milk's Matcha Toner Stick, which is also applied directly to the face.
Considering pretty much every other toner on the market comes in liquid form to be applied with cotton balls, it's incredibly convenient. "You just put the stick — toner and serum — directly to your face and get all the benefits directly to your skin," Ruth explained. "The product isn't wasted on your hands. It's really modern and very utilitarian."
According to Allure, the serum itself is "totally free from fragrance and a myriad of other potential skin irritants, including parabens, sulfates, SLS, and formaldehyde." Milk Makeup recently went 100 percent vegan, so you can add that to the product's list of pros, too. It's hero ingredient, watermelon extract, helps to hydrate skin, while swiss garden cress sprout and vitamins A, C, E help to brighten skin and protect it from free radicals. "Additionally, the formula swaps potentially harsh retinol for a similar line-fighting peptide complex, called matrixyl," notes Allure. Formulated for all skin types, it truly does sound like an ideal product — but how does it stack up to traditional liquid serums?
Upon application, Ruth says the serum "plumps skin and gives luminosity without shine," though it takes consistent use in order to get the product's full benefits. As an editor at Allure reported, "It feels super-cooling upon application (perfect for summer heat!) and leaves me with a radiant — not greasy — sheen. Plus, it absorbs within seconds and plays well under makeup."
Watermelon Brightening Serum, $36, Milk Makeup
As someone who is in the midst of some long-term travel, I can't help but to think that this fruit-infused serum would be the perfect addition to my devastatingly pared down selection of products. If its lid comes off, it won't get everywhere; it's the perfect answer to a tired, dry complexion that long flights often leave me with; and it's easier to use than any other skin product on my roster. As Ruth says, "this takes two seconds." Sold.
The Watermelon Brightening Serum officially launches on Milk's website on April 13, and in-store at Sephora on April 20.