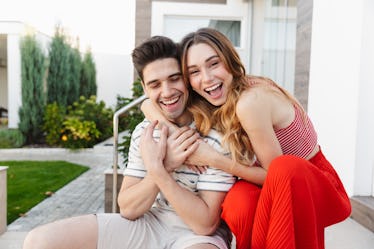 5 Things To Remember If Your 2020 Goal Is Strengthening Your Relationship
Shutterstock
Strength is just about the most sought-after quality you could ask for in your relationship. After all, strength implies that your bond is durable and can withstand almost any obstacle that life throws in your direction. Sometimes, you build that kind of resilience simply by weathering certain problems together, like compromising on mismatched goals or desires or coping with tragedy. But that doesn't mean you can't be proactive in forging a stable, long-lasting connection. If strengthening your relationship in 2020 is your goal, there are certain attitudes, beliefs, and strategies you can adopt to aid in your efforts.
First off, let's review what a strong relationship looks like. The definition can vary somewhat from couple to couple, but it can be helpful to clarify your end goal. The more clear you are on what kind of strength you're aiming for, the more likely you are to achieve it. Generally speaking, a strong relationship will not break under pressure. That means that even if you have a disagreement, neither of you is quick to throw in the towel. Instead, you use those opportunities to get closer to each other and figure out ways to improve your communication skills so that you can better prevent and resolve such issues. Another marker of a strong relationship is if both partners feel physically and emotionally safe and therefore trust each other enough to be vulnerable.
Strengthening your relationship is a wonderful goal to focus on because it demonstrates that you're committed to realizing your full romantic potential. As you look for new ways to build up your bond, just be sure to keep these things in mind.