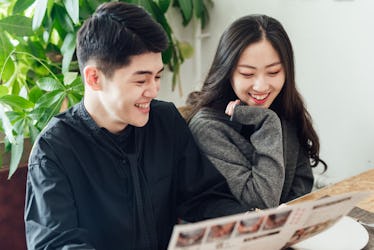 4 Ways To Build Communication Skills In Your Relationship, Because They're So Important
Relationships are more than just cute texts and romantic dinners. They take work, and anyone who has been in a relationship knows that to be true. You and your partner have to find ways to work together, grow together, and be honest with each other. It isn't always easy, but practicing open and honest communication can definitely make a huge difference in any relationship. If you and your significant other are struggling with communication, you aren't alone. Good news: There are many ways to build communication skills in your relationship. So, don't stress, because you've both got this!
"When you're in a great relationship, it can feel easy to build communication, and [it] actually feels effortless," Julie Spira, online dating expert and award-winning dating coach, tells Elite Daily. "As your relationship continues to build, this is where you might need to make a greater effort to building communication skills, as expectations and disappointments can get in the way."
As Spira says, if you and your partner have been together for a while, you might feel those communication skills starting to fade. But don't fret — that's totally normal! Communication may be key, but if you and your partner need help building those communication skills, you've definitely come to the right place. Here are four tips for building communication.