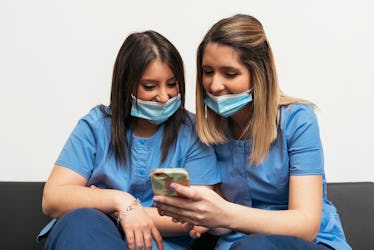 4 Signs Of Healthy Texting In A Relationship That Are Not To Be Left On Read
It's probably not hard to tell when texts from your partner are funny or sweet, but it can definitely be difficult to know if you're texting habits as a couple are healthy. From frequency of texts and depth of messages to who seems to be initiating more contact, there are many signs of healthy texting that go into unpacking your digital communication with your boo.
"The downfall of texting is that it can create anxiety and conflict in relationships," Anita Chlipala, a licensed marriage and family therapist and author of First Comes Us: The Busy Couple's Guide to Lasting Love tells Elite Daily. "If your partner doesn't respond as quickly as you want, or if texts are misinterpreted — it can cause anxiety and conflict."
Sending a text and waiting in panic for a response is about as comfortable as sitting in a chair with three legs or using a wet towel to dry off after a shower. But texting can also be a fun and flirty way to keep up the sexiness while you are apart, or a quick way to send a funny picture or sappy "I miss you."
Here are some signs of healthy texting between partners that are not to be left on read.