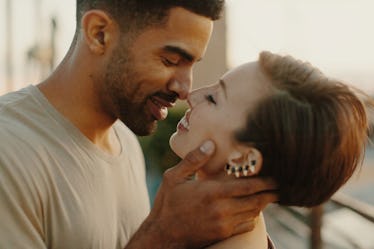 A Couples' Therapist Reveals 5 Tiny Ways To Strengthen Your Relationship
You know how people are always obsessed with the latest diet fad? Surely, this one is going to change their lives, revolutionize their healthy-eating habits, and give them enough energy to do more than just binge-watch a Netflix original series over the weekend. Well, that's kind of how I feel about dating hacks that promise to solve all of my relationship problems overnight. They're just not realistic. I don't know how to have a better relationship. If I did, I probably wouldn't be single.
What I do know is that if you're having relationship problems, there's no easy fix. Relationships are a lot of work. You won't be able to sit back and go with the flow — not if you want things to work out, that is. You'll need to take control of your relationship, speak up about what you want and need out of it, and fight for it when things get difficult. It's not just about you, either. Your partner's needs are equally as important as your own and it's crucial that you work together to make the relationship a comfortable and supportive environment for you both.
It may not always be quick and easy but there are things you can do to improve your relationship, experts say. I turned to Dr. Carolina Castaños, a clinical psychologist who specializes in marriage and family therapy, and the founder of MovingOn, a program designed to help heal broken hearts , for her suggestions.