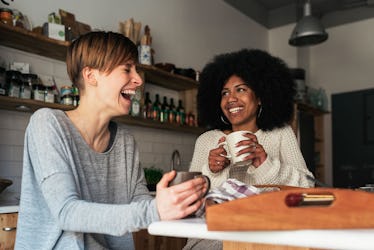 Here's How To Be A Better Listener When Your Friends Open Up & Vent To You
Who isn't guilty of having their eyes glaze over when someone is talking? Or saying a perfunctory "that's wild!" to someone, even though you didn't totally process the story they just told you? We've all been there from time to time, but if you find you're the type who habitually loses track of what people are saying, or you can't remember details of stories, or you have, on occasion, been told you don't seem like you're listening when a friend is venting, it might be time to learn how to be a better listener — at least for the sake of being there for the people you love, you know?
And seriously, as basic as it might seem, being able to listen when people are talking to you — like, really listen — is important. It makes you a better friend, a better storyteller, and an all-around better communicator. Plus, as Murray Nossel, Ph.D., author of the book Powered by Storytelling, tells Elite Daily, stories are how people connect with one another. "Storytelling is in our DNA and is hardwired into our brains," he says. "Whether we're telling at personal story or a story at work, for stories to have any kind of impact, someone has to be listening."
And while this might seem counterintuitive, Nossel says, the best way to improve your own storytelling skills is, first and foremost, to become a better listener. So really, you could be reading this article for purely selfish reasons to become a more engaging storyteller yourself — or you could work on your listening skills, like I said earlier, for the sake of your loved ones. I promise I won't tell anyone what your real intentions are. Either way, here's what you need to know, y'all.