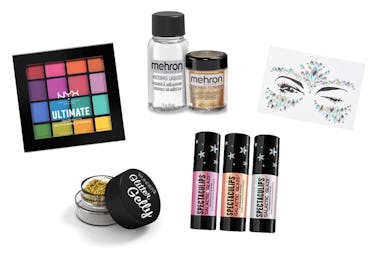 15 Halloween Makeup Products Under $25, So The Price Tag Isn't As Scary As Your Look
NYX, Mehron, The Gypsy Shrine, Wunder2, Soap & Glory
I'm not ashamed to say that I've been planning my Halloween makeup for months now — it's so much easier and more creative than a full-on costume, and beats splurging on an outfit I'll only wear once by a long shot. Even though I know the look I'm going for, though, I only recently realized I had practically no products in my massive beauty collection that could make my vision a reality: I'm a neutral, natural makeup kind of gal, and while I've got dozens of foundations, concealers and powders, I don't have much in terms of sparkly, statement glam. That being said, I also don't want to break the bank picking up a ton of new products, which is why I've sought out 15 Halloween makeup products under $25, all of which can be mixed and matched to create a variety of spooky or stunning looks.
When it comes to the majority of Halloween costumes, I've noticed that the need is either for dramatically dark makeup or pastel, cosmic glitter. Vampires, zombies, and witches love a black lip and a sooty smoky eye, while fairies, unicorns, and mermaids want as much sparkly, glowy goodness as possible. Fortunately, both are easy to achieve on a budget, and I've rounded up my top picks that you can grab before October 31 for under $25 each.
To Prep & Set
Halloween glam usually calls for a heavier amount of makeup than your daily application, so protecting your skin before caking it on is key. The e.l.f. Prep & Hydrate Balm ($8, elfcosmetics.com) will create a barrier between your skin and any products you pack on top, allowing a smooth canvas for your look while keeping skin underneath happy and hydrated. Another drugstore fave I highly recommend is the Catrice Prime & Fine Dewy Glow Fixing Spray ($8, catricecosmetics.com) thanks to its multitasking capabilities. Not only does this mist give you that glowy-not-sweaty finish, but it can be used prior to makeup to prep, after application to set, and even later on when you need to touch things up. If you're trick-or-treating, party hopping, or up to any other shenanigans on Halloween, chances are you'll be in your makeup for hours, so making sure it lasts and looks great is a major key.
For The Eyes
The eyes can really make or break a Halloween look, so it's important to have everything you need to really nail it. If you seek vivid, bold shades that pack a punch, the NYX Ultimate Shadow Palette $18, (nyxcosmetics.com) in "Brights" should give you plenty of options. If you're a witch who still likes to get glam, the Stila Shimmer & Glow Vivid & Vibrant Liquid Eye Shadow ($24, stilacosmetics.com) in shade "Vivid Labradorite" is worth the splurge: it's a super-pigmented black shade with eye-catching, shimmering pearl particles, for a one-and-done smoky eye in a single swipe.
Whether you're drawing the perfect cat eye or getting creative all over the face, a good eyeliner is key for any Halloween look. The L'Oreal Infallible Super Slim Liquid Liner ($6, target.com) in "Black 400" is one of the most pigmented, long-lasting liners the drugstore has to offer, so it should definitely be on your must-have list. To finish off a look, the Ardell Runway Lashes ($9, walmart.com) in "Pretty Black" feature tiny rhinestones atop each cluster of eyelashes, which will leave your friends wondering when you got such major makeup artist skills.
Consider yourself artistically challenged, but still want a fire eye look? The Gypsy Shrine is your saving grace — the brand makes press-on jewels that create a full-face look in seconds. The Iridescent Aura Face Jewels ($20, dollskill.com) are some of my favorites, and they would suit a variety of different costumes.
For The Face
When it comes to Halloween makeup, the face is where your look will most likely differ from your traditional, everyday glam. Some looks might call for foundation and concealer, but others require you to get artsy, which is why products like the wet n wild Fantasy Makers Multistick Crayon ($3, wetnwildbeauty.com) and the Fantasy Makers Paint Pot ($3, wetnwildbeauty.com) in "White" can really come in handy. The Multisticks can be used on the face and body, and are available on the brand's website in eleven shades, so you'll definitely find the color you need. The Paint Pot is ideal for covering a large area, and when the formula dries, you can go overtop with the Multisticks to add in further coloring and detail. At $3 apiece, both of these products are Halloween musts.
Creating a look that calls for major shine? Got you covered. The Catrice Galactic Highlighter Drops ($11, catricecosmetics.com) in "Galactic Glow" are one of my favorite liquid highlight go-tos, and you can apply them on their own for a lustrous sheen or blend them into other base products to give a dewy finish. If you need something more full-on metallic, the Mehron Metallic Powder with Mixing Liquids ($14, mehron.com) are no joke — available in "Gold," "Silver," "Copper," "Bronze," "Lavender," and "Rose Gold," these are basically metallic paints when mixed properly, and they're intense enough to make the Tin Man jealous of your shine. If you're a glitter guy or gal, the Wunder2 Glitter Gelly ($16, wunder2.com) is more likely your speed, and the gel formula makes it easy to apply without fussing with glitter glue or messy loose pigments. The Glitter Gelly is available in five sparkling shades: "Citrine," "Amethyst," "Aquamarine," "24 Karat," and "Diamond."
Finally, if you're going for more of a gory look, a hearty pour from the Jug of Fake Blood ($7, target.com) should get the job done. Not sure what you'll do with it once the Halloween season ends, but in the meantime, you'll be sure to wow (and terrify) your friends with this realistic bloody concoction.
For The Lips
A good lip really finalizes a look, so whether you're going bold, dark, and matte or out-of-this world shiny, be sure to prep accordingly. The Kat Von D Everlasting Liquid Lipstick ($20, katvondbeauty.com) in "Witches" is the ultimate jet-black shade that will stay on all night, whether you're bobbing for apples or smoothing wizards and witches. If a hi-shine, shimmery lip is move your move, the Soap & Glory SPECTACULIPS Galactic Glaze Lip Glosses ($12, ulta.com) are a great option available in three whimsical shades: "Back To The Fuschia," "Blaze of Glory," and "Starship Silver."
Whether you're going for spooky, sparkly, or sweet this Halloween season, I guarantee that all the products on this list are treats, not tricks. Don't be surprised if a few of these items end up in your everyday makeup favorites, too — so long as we aren't talking about the fake blood, this is totally acceptable.