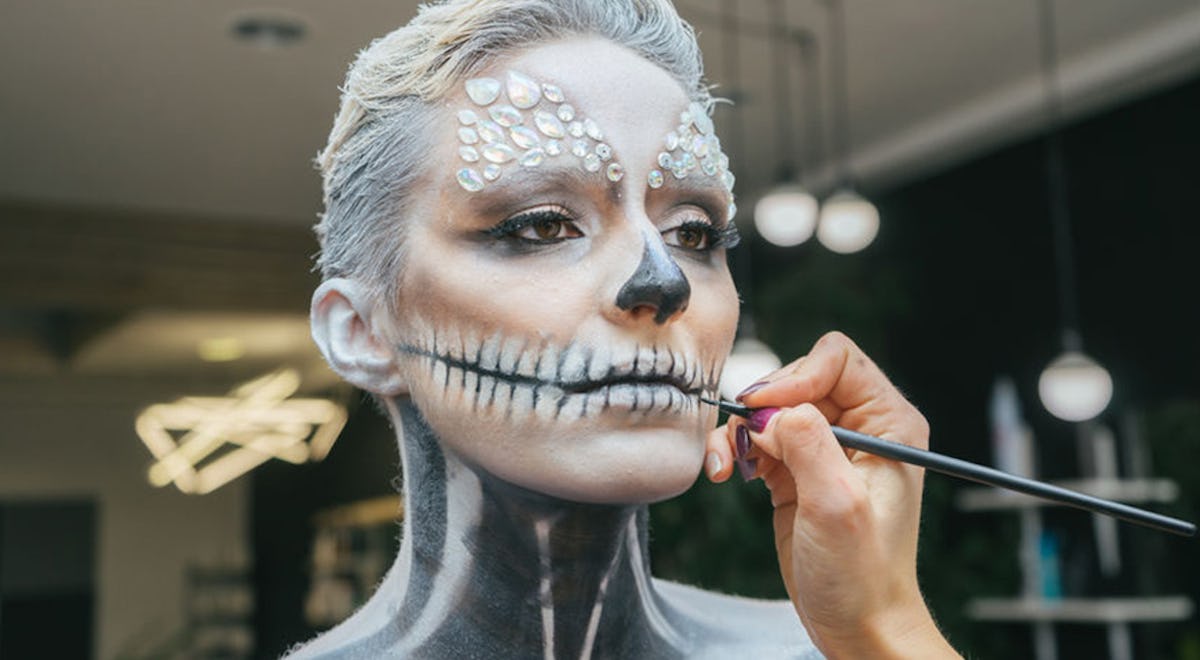 Here's The Best Halloween Makeup Inspo From Instagram, So Your Costume Is Selfie-Ready
Luis Velasco/Stocksy
It's the most wonderful time of the year, people! That's right. Halloween szn is finally here, so stop watching Hocus Pocus for two minutes and listen up, because I come bearing costume inspiration. If you haven't already decided what to be this year, I've got the best Halloween 2018 makeup ideas from Instagram gathered below, and each look is better than the next.
Even though I no longer live in daily fear of a clown popping out at any given moment, clown costumes are definitely still in this year, and makeup artist and special effects pro Mykie's Pennywise the clown look, inspired by the movie It, is def one of my favorites for clown-glam inspo.
She even made a video on how to get the look for her YouTube channel, Glam&Gore, which currently has over 3 million subscribers.
Yes, clowns are terrifying, but when you peep this look up close, you'll see that an ample amount of glitter and a scattering of gems make this a very glamorous clown, indeed:
If you're going for more of a zombie-esque look, makeup artist @thetrashmask does some of my favorites, always utilizing color and texture to beautify even the scariest of glams.
One of my favorites is this gold drippy zombie, featuring white-out contacts, gold studs, and a luxe-yet-haunting foiled finish:
@thetrashmask's most unique glam, IMHO, has to be her Lisa Frank cheetah. My inner '90s kid is delighted at the thought of bringing this to life — no matter how much face paint it might require:
Can't decide between a scary alien or a romantic mermaid? Let makeup artist Danielle Mara help you find a happy medium with this creation, which is as gorgeous as it is freaky.
She also created this fierce Mother Nature look, which is anything but natural, yet still perfection:
Another one of my favorite Halloween makeup trends spotted on Insta has to be the whole "partial normal makeup surrounded by costume glam" thing. Know what I mean? Makeup artist Áurea Damião is particularly good at it, and it's a fun way to participate in both beauty makeup and serious costume facepaint.
Exhibit A: This galaxy-inspired look featuring a glam eye revealed by a hefty foundation pour. A+ for creativity!
Exhibit B: This camo moment, featuring full-on facepaint broken up by a stripe of skin and a green smoky eye:
My girl @PrettyWithLee also does this trend well — peep her half-glam, half-celestial masterpiece:
And finally, the last of my half-face favorites, her half-glitter face, which looks like skin has been peeled back to reveal a sparkling under layer:
Gorgeous, right? The best part about the half-face trend is that all the looks would work well as full-face makeup, too, so you can get halfway through your beat and decide if you want to continue or leave it as is. You're welcome for this lazy girl costume makeup hack!
Say you are going all the way, though, don't forget that the details matter as much as the big picture. For a unicorn costume, a horn is a must, but makeup artist Lucinda's unicorn winged liner look proves that the smallest elements of sparkle are really what pull a look together.
I'm drooling over this bedazzled eyebrow and lower lashline. Too good!
Picture me, slaying in this eye look by Lucinda, as I hand out candy to trick-or-treaters. I'm sorry, but that's goals:
Obviously, Instagram is a goldmine of costume and makeup inspo, so if none of these are your cup of tea, feel free to scroll through the app yourself until you find ~the one. Shout out to all of the incredible MUAs on the 'Gram for giving me the much-needed inspo to go all out on my Halloween beauty this year! I won't let you down!