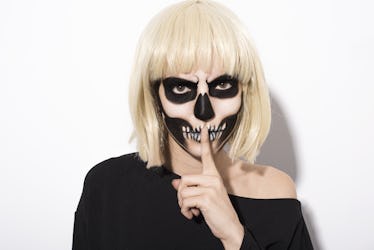 9 Last-Minute Halloween Makeup Looks If You Completely Forgot To Buy A Costume This Year
Time slips away from you when you're hardcore #adulting between college courses and/or a career, so unless you have All Hallows' Eve circled in bold, red Sharpie on your calendar, chances are you're struggling to pull together a festive look at the very last minute — which isn't a huge deal, by the way. Last-minute Halloween costumes are generally easy to throw together, but if you're trying to get uber crafty here, they can require a lot of on-the-spot creativity and hard labor. Rather than wrestle through the crowd of frantic moms picking out their children's costumes at the party store, or desperately scrounging through your own closet to make something work, you can easily score last-minute Halloween makeup looks that negate the requirement to actually dress up.
The power of makeup really comes into play when women (and men, and potentially some forgetful children) overlook Oct. 31 traditions amidst this demanding little thing called life. Luckily, most of us at least have a basic cosmetic collection, and we can use a few products to make us over into something macabre enough to appease an unyielding squad begging you to at least show up to this year's haunted happy hour. Humor them by opting for a last-minute Halloween makeup look instead of a full-fledged costume. That way, you can go to work or class in your everyday attire, and still pass as "festive."
Need a little inspiration? Check out a few last-minute Halloween costume makeup looks below that range from ultra glam, to looks that work if only to get you in a slightly more celebratory mood.