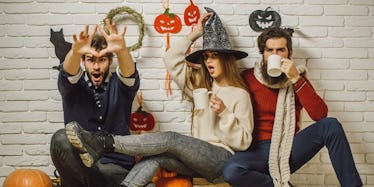 10 Easy Halloween Costumes For College Students That Won't Break The Bank
tverdohlib/Fotolia
Halloween becomes a whole new holiday as soon as you step foot on a college campus. Whether or not you dress up, you're sure to run into some sort of spooky celebration. Particularly during the weekend before Halloween, the party scene is active and practically calling your name. It can be hard to track down the right Halloween costumes for college students, but with a little thought and resourcefulness, you'll have all eyes on you. Sometimes, all you need is a great idea and a few crafting supplies to make the perfect costume, so don't be discouraged if your budget is limited.
We all know the only thing that will make an epic Halloween party even better is an incredible costume. Some people have time, effort, and money to spare to splurge on something intricate, but some students have to get creative. The great thing is, you'll see a little bit of both and everything in between at a party, so you don't have to feel worried about sticking out. After all, being different is the entire point of wearing a Halloween costume. If you're struggling with what to be this year, here are a few epic costume ideas (that won't break the bank) to get your creative juices flowing.
1. Velma And Shaggy
New post (Pin for Later: 27 Costumes For 30-Somethings That Won't Break the Bank ...) has been published on - https://t.co/HraxTh238g pic.twitter.com/sZ0Ej9yFie — DIY Halloween 2017 (@diyhalloweencos) September 5, 2017
Recreating a character from a TV show is a classic idea for Halloween costumes. Especially for couples and squads, there are plenty of recognizable faces to represent this year. Simple clothes make the outfit, so you won't need to break the bank.
2. A Sassy Animal
New post (zebra and zookeeper // couple costumes // halloween ...) has been published on - https://t.co/mxLGNSnzqc pic.twitter.com/x7HASuwgV0 — DIY Halloween 2017 (@diyhalloweencos) September 3, 2017
A pair of animal ears can go a long way. At a bare minimum, you can represent with little effort, but a simple addition to the outfit is all it takes to stand out. It's classic, but you can do it your own way.
3. Regina George
23 Amazing DIY Halloween Costumes That Are Also Cheap and Easy https://t.co/qhRjnW9Wy1 pic.twitter.com/lFBBUpGH6d — Cosmopolitan (@Cosmopolitan) August 18, 2017
Practically every girl will recognize this iconic character, so you don't have to worry about anyone asking who you're supposed to be. All you need is a bra (which you probably already have), a white tank top, and a pair of scissors. Best of all, you can still be comfy while you're busy celebrating.
4. Go All Out With Some Spooky Makeup
70 Mind-Blowing DIY Halloween Costumes For Women pic.twitter.com/dMefoNyk6y — Sarah (@bolhaw5) August 3, 2017
If you're gifted in the realms of makeup, Halloween is more like Christmas. You have endless options and the opportunity to impress a lot of people, so let your creative juices flow. A quick browse through Pinterest should give you more than enough inspiration.
5. Your Fave Snapchat Filter
DIY Snapchat Halloween Costumes! - https://t.co/zXmVMpLSFh pic.twitter.com/308a5As2nh — Chris Mobbs (@chrisifg) July 27, 2017
Some face paint is all you really need to recreate some of your favorite Snapchat filters, but you can always get more creative. The easy thing about this costume is that it's only you with some fancy features, so there's not much to get that you don't already have. Lazy costumes are the bomb.
6. M&Ms
Best Last Minute DIY Halloween Costume Ideas - Top 10 Last-Minute Halloween Costumes - Do It Yourself ... - https://t.co/fx2cJqCF0r pic.twitter.com/3stgK8EW5w — We Know How to Do It (@how_do_it_com) July 11, 2017
However you fulfill your role as an M&M, all you really need is a solid color and a big white "M." You can splurge for the tutu or some knee socks, but anything you get isn't likely to cost you a ton. Better yet, grab your girls and make a whole M&M squad.
7. Rosie The Riveter
New post (48 Stylish DIY Costumes That Are Just Too Easy) has been published on Happy Halloween - https://t.co/wQXs2cbCa7 pic.twitter.com/dvirtDWg5i — Happy Halloweens (@HalloweensHappy) June 6, 2017
This costume is a classic. It's feminist. It's easy. What's not to love?
8. A Jellyfish
Don't spend a fortune on your #Halloween costumes! Try these inexpensive #DIY ideas instead: https://t.co/y4Z8lXpLCL pic.twitter.com/bEKMOfWvWe — Fitness Trampoline (@FitTrampoline) April 3, 2017
It's as much a costume as it is an accessory, but it comes without the annoying necessity of wearing something on your body (please actually wear clothes, though). All you need for this costume is an umbrella and colored party streamers. Tape on some paper eyes, decorate as necessary, and you're good to go.
9. A Scarecrow
28 Last-Minute DIY Halloween Costumes pic.twitter.com/gxEeYlTiUF — Bianca Koot (@Bianca_Koot) March 30, 2017
No special shopping or skills are needed to pull off this look. If you have jeans and a flannel, you have all you need. A floppy hat and some drawn-on stitches complete the autumnal style.
10. Netflix And Chill
LOVE YOU & OUR LAST MINUTE DIY COSTUMES #halloween pic.twitter.com/KsGRpis5e5 — JEM✨ (@xjillmarjorie) November 1, 2016
If you have a bud to pull off this partner costume with, you're good to go. One of you will need something red to represent "Netflix," and the other will dress in blue, for "Chill." Make sure to stick together, though, or someone might not get the joke.