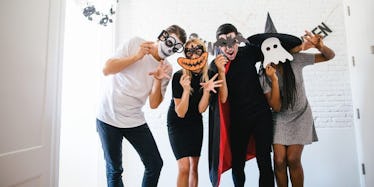 12 Best Halloween Costumes To Plan With Your Squad That Will Totally Slay
Guess what? It's finally September, which means it's officially acceptable to drink apple cider and Pumpkin Spice Lattes whenever, and… it's not weird for you and the squad to start planning this year's bomb AF Halloween costumes. The spooky holiday is the best time to go all out with your squad, and TBH, it's not always easy to plan the perfect group Halloween costumes. There are a lot of people to please, and a lot of ideas and opinions out there. It's definitely not a decision you take lightly.
There's no judgement here; I know my friends have been planning their costumes at least since last year's Halloween ended, and that's the norm. For some reason (OK, the friends, the parties, the costumes, the excuse to consumer excessive amounts of candy), Halloween is the millennial's obsession once fall hits. It spans almost an entire week, and it's not even that weird when people wear their costumes to college classes.
This year's plan of action? Use one of your costume days to go all the way out with your group of BFFs. Don't wait another second. Every year, you and your squad probably get best costume, but with these 12 ideas, you're sure to impress the masses... and your Instagram feed.
1. The Spice Girls
I'll tell you what you really need in your life... this costume. I mean, your group can't go wrong with this one. And let's be real, who doesn't love the Spice Girls and their catchy hits? You're set to crush it with the Instagram caption game, too.
2. A Deck Of Cards
How cute is this costume idea? That best part is that it's perfectly customizable for the number of friends you have. You'll never have to worry about leaving anyone out. The black tutu skirt is a fun addition to the look.
3. Mean Girls
Get in, losers, because we're making this our Halloween costume. You can't go wrong channeling Cady Heron, Regina George, and the crew, am I right? Prepare for best costume.
4. Starbucks Drinks
Are you and your squad major #PSL drinkers? This costume might be the one for you. The best part? It's so easy to DIY.
5. Snapchat Filters
This group costume gets all the points because it's cute and easy (aka, a winning combo in my book). For this one, just focus on a headband and fun face look. Forget the crazy outfit. Snap your Snapchat costume, and be ready for things to get real inception-y.
6. Clueless
This Clueless duo has to be the most adorable costume for you and your bestie. The costumes are so unique that everyone will know who you are. You also get to say "as if" to anyone you don't want to talk to, and you don't have to feel bad about it.
7. Scooby-Doo And The Crew
Throw it back to your childhood with this crowd-pleasing squad costume. Your friend group will be the talk of all of your parties. Don't forget to draw straws for Scooby, though. That costume's gotta be the most hilarious one in the bunch.
8. The New Ghostbusters
Got a bunch of bad*sses in your group? If so, you have to go the Ghostbusters route. These costumes will also keep you warm in the October weather, so that's a pretty big plus.
9. Emojis
I love this idea, because there are just so many emojis you can be. Flipping hair emoji with the girls? Go for it. A group of salsa-dancing emojis? Even better.
10. Stranger Things
Honestly, this has got to win the award for "Most Entertaining Costume." Points to the people who can guess what you are. Luckily, you can make these costumes with stuff you already own, so no need to break out the piggybank.
11. Dalmatians
our dalmatian costumes are spot on pic.twitter.com/ARYIJe8GHt — bekah (@bekah_maker) March 9, 2016
OK, how cute is this group of Dalmatians, though? For all of the friends who are major dog-lovers out there, this costume idea is on point. It's pretty simple to put together, too.
12. Biker Squad
Biker girl Halloween costume #movies #culture #tsu #followers #society #evelingeczi... https://t.co/jcw5LYco4W pic.twitter.com/3xCLiOZR2V — evelingeczi (@evelingeczi1) November 1, 2015
This costume is fierce and so fun to put together. Get tatted up with your favorite temporary tattoos, and fix your hair in matching bandanas. Once you have your leather ensemble on, you're set to roll out in style.