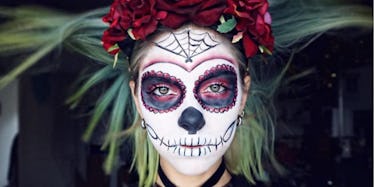 12 Amazing Last-Minute Halloween Makeup Ideas (Photos)
Halloween is just a few days away, and if you're anything like me, you haven't even thought of what you're going to do yet  —  let alone, what you're going to wear.
Some people like to go all out with the costume and the makeup, and that's cool; kudos to them. But others, myself included, suck at planning ahead, and when it comes down to the wire, need a costume that can be whipped up fast.
That's where makeup comes in: Instead of shelling out your hard-earned cash for a generic, overpriced costume at the party store, you can create a one-of-a-kind costume on the cheap, using beauty products you already have.
Need inspiration? Check out some Halloween beauty looks below, created by Instagram's most talented makeup mavens.
From delicate and detailed sugar skulls, to minor 'ween-themed makeup modifications, there's something for every style and skill level.
No need for treats: With these beauty tricks, you'll win Halloween.
Dia de los muertos sugar skull:
Creepy porcelain doll (tutorial here):
Jigsaw:
Lictenstein Pop-art girl:
Leopard:
Harlequin clown (tutorial here):
Black Swan:
Mermaid:
"Aladdin Sane" David Bowie:
Zombie flapper:
Glam-pire (tutorial here):
Spider(web) woman: