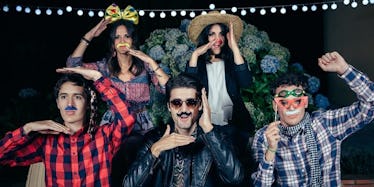 10 Last-Minute Halloween Costumes For The Procrastinator
David Pereiras/Fotolia
Coming up with a Halloween costume can be difficult. You probably want something that will impress all of your friends, but the pressure can make the decision-making longer. By the time Halloween comes around, you realize you've been procrastinating and you don't have something to wear. Don't worry at all, it happens to the best of us. We've all used our membership card to the Procrastinators Union. I know I'm a proud member, and let me tell you there are a ton of last-minute Halloween costumes that you don't have to put a lot of effort into.
Last-minute costumes can end up being some of the best, most creative ones at the party. So, stop stressing. The holiday is all about having fun, and basically anything goes. The most important ingredient to any costume is to fill it with personality. Here are 10 awesome last-minute Halloween costume ideas that you can easily throw together in no time. You can improvise based on whatever you happen to have in the house or can find by a nearby secondhand shop.
1. Pumpkin Pi
Draw or paint the Pi symbol on an orange shirt, and there you have it: Pumpkin Pi. It's so clever that you don't have to tell anyone it was a last-minute costume. This idea is wittiness at its best.
2. A Sims Character
You can literally wear anything from your closet. All you need is the Sims green diamond to wear above your head. You can hold up a cutout, or if you are able to get crafty, you can attach it to a headband.
3. Kim Kardashian
Kim Kardashian is a fun person to dress up like. Find your favorite Kim K look, and copy it based on what's in your closet. If you have time to get a Kim K wig, that will only add to the fun, and that will be easy to find at any costume store.
4. The Dancing Girls Emoji
The dancing girls emoji is a really simple costume to put together. All you need is a black leotard, bunny ears, and black flats to complete the look. Strike the infamous pose, and there you go.
5. John Bender From The Breakfast Club
For this 80s classic, you will need a long trench coat. Adding in the jean vest, fingerless gloves, and sunglasses will help finish the outfit. Don't forget to hold your fist in the air, just like the end of the movie.
6. Risky Business
All that's needed for this one are socks and a white button-down. People won't need to ask what your costume is when you slide in and make your grand entrance. You'll get some great pics if your whole girl squad is in on this one.
7. Clark Kent
If you have a Superman shirt lying around, layer on a half opened white button-down, and there you have it. You're Clark Kent as Superman. Don't forget the glasses for the finishing touch.
8. Netflix And Chill
If your friend is also looking for a last-minute costume, you can both be Netflix and Chill. You just need a red shirt for Netflix and another shirt for Chill. Tape on the words "Netflix" and "Chill," and there you have it. Get ready to crush Halloween with your bestie by your side.
9. Rosie The Riveter
This is another last-minute costume that is super easy, but it's all in the pose you strike. For Rosie, you just need a blue button-down and a red bandana. The rest is all in her iconic flexed arm.
10. Damian from Mean Girls
Any of the Mean Girls characters are good last-minute Halloween costumes, but Damian is the real MVP. You will need a blue hoodie and sunglasses. Make a sign to hold up that says, "She doesn't even go here," and it will definitely help to clue in anyone that doesn't get it right away.