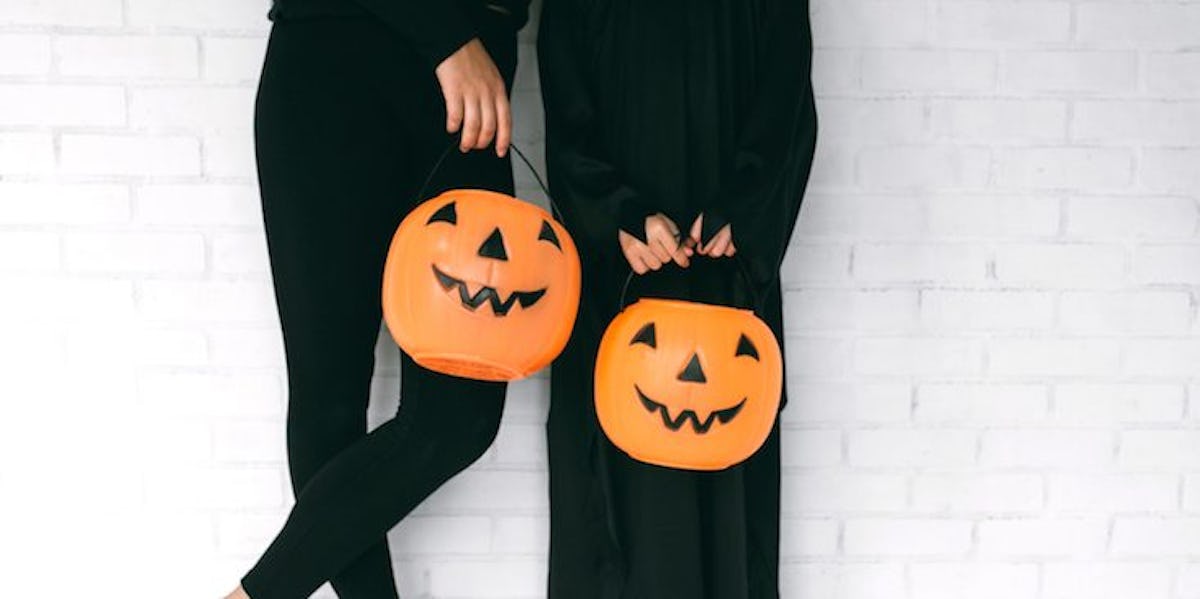 10 Lazy DIY Halloween Costumes For You And Your Broke Best Friend
There's a lot to love about Halloween, from the parties and the fun times with your closest friends, to candy sales and spooky cocktails. But, has anyone else noticed that Halloween can also be hella expensive? Most holidays drain our bank accounts, but when all you want to do is wear a costume you feel amazing in and live it up with your besties, the idea of dishing out a ton of cash totally brings down the mood. Not to mention, putting costumes together is so much work. So obviously, you and your broke BFF turn to lazy DIY Halloween costumes.
But, let's get real here; more often than not, DIY really just translates to, "this is actually a lot of work" and, "this takes much more talent than perseverance." You and your best friend so do not have enough time to spend a few days constructing the perfect costume. Major props to all of the amazing DIY-ers out there, but most of us aren't that dedicated. So instead, you (naturally) attempt to do the insane DIY ideas in less time and with less of the required materials. It never turns out quite the way you thought it would. What went wrong? You were probably looking for the wrong DIY tutorials, so I'm here to help you out. Here are are 10 lazy Halloween costume videos for you and your broke best friend.
1. The Social Butterfly
This colorful costume is both cute and easy to put together. Everyone will love guessing what you are. TBH, sassy costumes like these get the most attention.
2. A Pinneaple
Do you have a yellow dress chilling in your closet? A few sheets of green construction paper? OK, good, because that's about all you'll need to create this adorable costume. Don't forget a fun pair of sunglasses for the finishing touch.
3. The Snapchat Ghost
If you and your BFF are running on your last dime, this is the ultimate costume for you. All this cute Snapchat ghost DIY needs is a few craft store materials and a bed sheet. You go, boo.
4. Elsa From Frozen
If you and the bestie are Disney lovers at heart, you'll both fall head over heels for this DIY. This quick Elsa costume is simple and adorable. Just make sure not to freeze in the chilly weather. Adding a pair of sparkly tights will work wonders if it's a cold night.
5. A Sims Character
This is pretty much the ultimate Halloween costume and requires minimal effort. Who didn't love playing The Sims all day long? Throw it back to your teen years with this DIY.
6. Anyone From Inside Out
We all loved the heartwarming Inside Out, so of course it makes for an awesome Halloween costume. The range of characters makes it easy to make a costume work with whatever you have in your closet. Plan to be the duo that steals the show.
7. Wonder Woman
After Wonder Woman blew us all away, there's no doubt it'll be one of the more popular costumes this Halloween. Luckily, you don't have to break your bank for a great spin. This costume is pretty easy and  cheap. Get crafting, and rock those red Converse like it's your job.
8. DIY Paper Doll
This DIY gets extra points for creativity. If you and the bestie have a little extra time, this DIY is a bit easier than most. You'll end up with a killer unique costume.
9. Stranger Things
Want to win all of the Halloween costume contests this year? Go with this Stranger Things DIY. You and your BFF can twin it up, or pick separate characters.
10. A Hippie
When in doubt, go for a hippie costume. This tie-dye ensemble is perfect for channeling your inner peace-lover. You can make this costume from whatever you have in your closet, and it's still bound to be cute. If you're not about this idea, you can really channel any decade of your choice. Rock on.