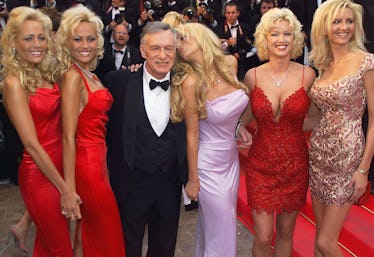 Hugh Hefner & Playboy Bunny Halloween Costumes That Are So, So Easy
PASCAL GUYOT/AFP/Getty Images
The countdown is on — we are officially less than a month away from Halloween. If you and your friends are completely drawing a blank for inspiration or are stressed about the possibility of using the same lame costume as last year — have no fear. Hugh Hefner and Playboy Bunny Halloween costumes are perfect for your group. They're iconic, easy to achieve with just a few items, and I guarantee you will have a blast.
The world of pop culture suffered a huge loss with the death of Playboy creator, Hugh Hefner, on Wednesday, Sept. 27. He was 91 years old. Playboy caused a sexual revolution in the country starting with its first centerfold, Marilyn Monroe, in December of 1953. The Playboy franchise went on to create clubs, events, and one fantastic reality television show, with Hefner at the center of the whirlwind for more than 50 years.
Why not honor Hefner and the iconic bunny ears this Halloween? Obviously, this costume works best as a group, but let your inner Hef or Playboy bunny fly free if that's what feels right.
Let's start with the man who started it all — Hugh Hefner. It only takes a few items to create the perfect Hef costume.
1. The Red Satin Robe
Absolutely iconic and a must if you want to win Halloween as Hugh Hefner. This is the item you need to have to be Hef.
Smoking Jacket, $59, Find Costumes
You could just buy a Hugh Hefner smoking jacket. The one above from findcostume.com costs $59. TBH, this is the easiest option.
For a cheaper alternative:
I'm not saying it looks as nice, but if you're only planning to rock Hef's look for one night, I understand wanting to look for a bargain. The costume smoking jacket above is available for $22 on Ebay.
2. Black Silky PJs
Satin Pajamas, $35, Amazon
You're going to need something to wear under that smoking jacket. Silky black pajamas are the perfect addition to this Hef ensemble. Amazon has great deals on PJ sets, including the one above for under $35.
Shopping tip:
Black silk pajamas can start to get pricey depending on their quality. Don't be afraid to check out resale or consignment sites. The women's PJ top above (come on ladies, you can capture Hef's essence, too) is from Victoria's Secret and just $22 on Poshmark.
3. Captain's Hat
Captain's Hat, $10, Party City
Hef loved a good captain's hat — especially at a Playboy mansion party. This will definitely be your Halloween crown. Party City sells captain's hats at just $10 a pop. TBH, save the hat — you'll get a lot of use out of it during summer BBQs.
4. Classy Pipe
I don't know many people below the age of 60 that actually smoke out of these old-school pipes, but they're cheap enough to buy for Halloween. Walmart sells this faux pipe for $9. If Walmart sells it, tons of other retailers must sell these, too.
That's it — just four easy items for a great Hef Halloween costume. Of course, every Hugh Hefner needs his Playboy bunny. Anyone can create this costume, no matter what your budget.
Halloween high roller bunny costume:
Playboy Bunny Costume, $110, Halloween Costumes
This is the ultimate Playboy bunny costume. It proves you wanted to become a Playmate and you don't care about the cost. The costume above comes at a hefty price tag of up to $110 (size dependent), but the bunny costume includes just about everything: Corset, panty, pair of wrist cuffs, collar, and headband.
Cheaper option:
Bunny Costume, $45, Walmart
As you can see, it's basically the same costume, but only costs $45 at Walmart. In true Halloween costume fashion, I'm sure the material is a little cheaper, but who's really going to notice? According to the description, this full bunny costume includes the spandex body suit, collar tie, cuffs, headpiece, mini skirt, and petticoat.
If you want to piece it together, start with the bunny ears:
Bunny Ears, $5, Amazon
Depending on your needs, buy whatever accessories you want. Bunny ears are relatively easy to find. The pair above are less than $7 on Amazon. Just be sure to stick with the silky ears so you don't get mistaken for a sexy Easter bunny.
Then, add a tail:
A bunny tail is by far the cutest (yet sexiest) Halloween accessory. Score this bunny tail from Amazon for under $7. According to the reviews, some people thought it was a little too large — which I'm not quite sure I can agree with. You want a cute and fluffy bunny tail, don't you?! Also, it should be noted that the particular tail above uses a fabric loop to attach itself, so you will need a safety pin.
Don't forget the accessories:
Collar, Tie and Cuffs, $7, Amazon
Personally, I think the collar, tie, and cuffs are bonus accessories to pass the costume threshold from good to amazing. Buy the set for under $7 on Amazon to add some pop to your plain bunny costume from last year.
Finally, the body suit:
The body suit can be put together a number of different ways. The easiest would be just buying a black body suit or leotard. The simple one above is on Yandy.
Body suit alternative:
If you're not feeling the body suit, you can easily piece together something that works for you. Companies that make dance clothing are great for finding spandex items in a variety of sizes for any gender. For example, the spandex shorts above from Dancewear Solutions are under $26.
Pair spandex shorts with a matching black crop top and Playboy bunny accessories and you have yourself a costume. Most of us have a favorite black crop top already. If not, the one above is only $10 from Top Shop. Easy, right?
As you can see, turning yourself into Hugh Hefner or a Playboy bunny is easy to achieve with just a few items. If you become these pop culture icons, prepare to have an amazing Halloween.
Check out the entire Gen Why series and other videos on Facebook and the Bustle app across Apple TV, Roku, and Amazon Fire TV.