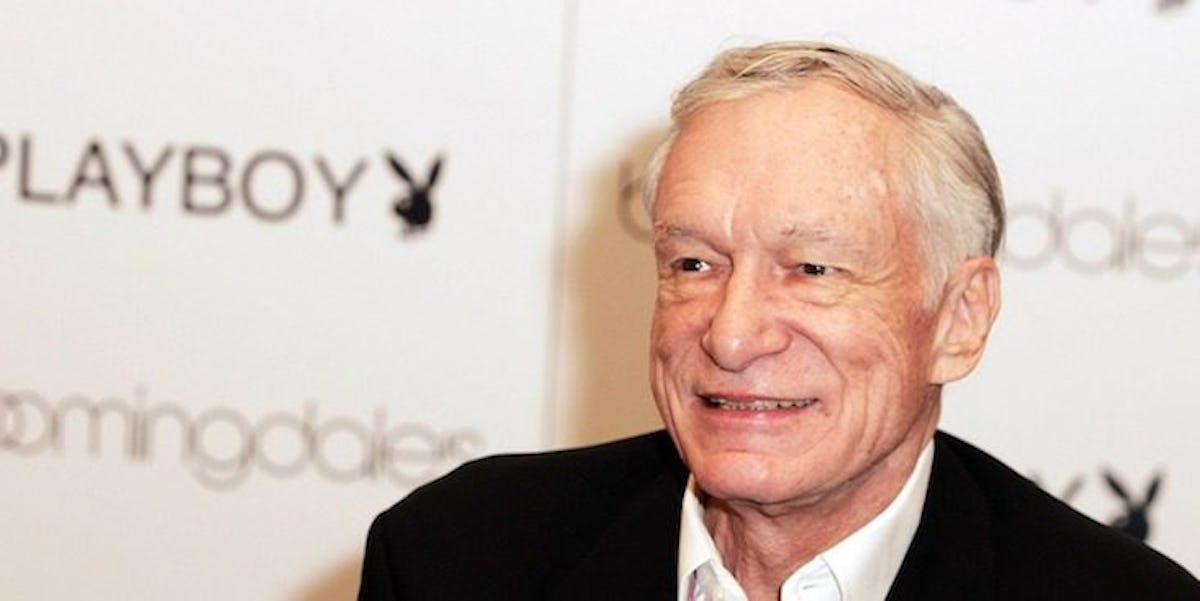 'Girls Next Door' Playmates React To Hugh Hefner's Death & It's So Emotional
Noel Vasquez/Getty Images
It's sad, but true: Hugh Hefner has died at 91 years old. The Playboy legend reportedly died in his home on Sept. 27. Celebrities and fans around the world are in mourning, and they've taken to social media to send their condolences. In particular, Hefner's girlfriends from his hit reality TV show, Girls Next Door, reacted to Hugh Hefner's death, and it's so emotional. Holly Madison, Kendra Wilkinson, and Bridget Marquardt all lived with Hefner in the Playboy Mansion and aired their time there on the E! reality show.
In a statement to the media, Hefner's son Cooper said his father was a "leading voice" behind some of the country's biggest movements. He said,
My father lived an exceptional and impactful life as a media and cultural pioneer and a leading voice behind some of the most significant social and cultural movements of our time in advocating free speech, civil rights and sexual freedom. He defined a lifestyle and ethos that lie at the heart of the Playboy brand, one of the most recognizable and enduring in history. He will be greatly missed by many, including his wife Crystal, my sister Christie and my brothers David and Marston, and all of us at Playboy Enterprises.
Early this morning, Hefner's former Playboy girlfriend and star of Girls Next Door, Bridget Marquardt, took to Twitter to share her thought's on Hefner's passing. She wrote,
So sad but forever grateful for all the wonderful memories and amazing experiences #RIPHef #Playboy
Hefner's other former girlfriend, Kendra Wilkinson, echoed the same sentiments. She released a statement about her time with Hefner, saying,
Hef changed my life. He made me the person I am today. I couldn't be more thankful for our friendship and our time together. I will miss him so much but he will be in my heart forever.
The third Girl Next Door, Holly Madison, hasn't posted anything just yet about Hefner's death. Madison did come out with a few memoirs that depicted her time at the Playboy Mansion that ended up ruffling some feathers with Playboy and her former Playmates, including her tell-all book Down The Rabbit Hole: Curious Adventures And Cautionary Tales Of A Former Playboy Bunny.
Madison has since gotten married to producer and writer Pasquale Rotella and they have two kids together: Rainbow Aurora Rotella and Forest Leonardo Antonio Rotella.
Other celebrities have also come out to pay their condolences to Hugh Hefner and his Playboy family. Kim Kardashian took to Twitter, writing,
RIP to the legendary Hugh Hefner! I'm so honored to have been a part of the Playboy team! You will be greatly missed! Love you Hef! Xoxo
Hefner's death also spurred a reunion with Kardashian and her famous frenemy, Paris Hilton. Kardashian tweeted,
Paris & I are reminiscing about the Playboy parties at the mansion & how much we love Hef. She's texts me the perfect Hef emojis
She included a bunch of dancer and man emojis, and to be honest, it totally does look like Hef and his Playboy bunnies.
Carmen Electra took to Instagram with her emotional tribute, writing,
R.I.P. Hugh Hefner The American Icon who in 1953 introduced the world 2 Playboy mag and built the company into one of the most recognizable American Global brands in history , I am so grateful I had the opportunity to shoot many Playboy celebrity pictorials with u Hef¸ thank u for picking me and Bringing me into the magical world of Playboy ! I just can't stop crying and I can't imagine how many bunnies are crying for u too. U are a class act and I will always have gratitude for your kindness love u Hef #hughhefner #playboy #icon @playboy
The world will miss you, Hef.