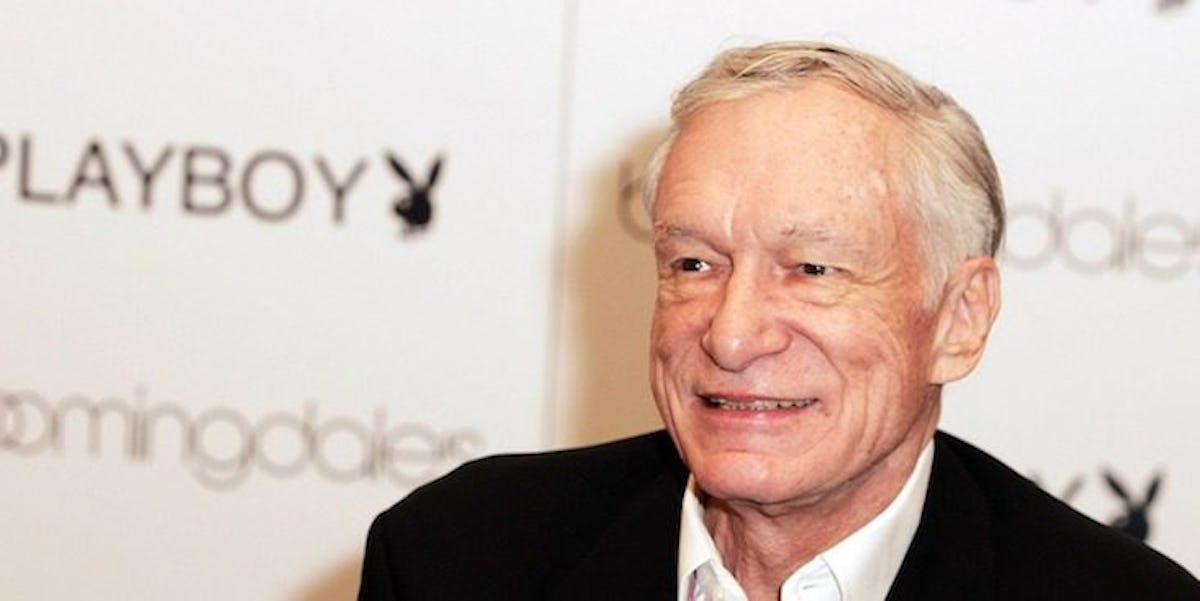 Hugh Hefner, Founder Of Playboy Magazine, Dies At Age 91
Noel Vasquez/Getty Images
It's the end of a centerfold era. Playboy Magazine founder Hugh Hefner has died at age 91, CNBC reported on Wednesday evening. Playboy Enterprises said in a statement that the icon had passed away of natural causes.
The magazine founder reportedly passed away at his home, Playboy Mansion, in Los Angeles, on Sept. 27. His son Cooper Hefner, the chief creative officer of Playboy Enterprises, said in a statement that his father was a "cultural pioneer." The younger Hefner said,
My father lived an exceptional and impactful life as a media and cultural pioneer and a leading voice behind some of the most significant social and cultural movements of our time in advocating free speech, civil rights and sexual freedom. He defined a lifestyle and ethos that lie at the heart of the Playboy brand, one of the most recognizable and enduring in history. He will be greatly missed by many, including his wife Crystal, my sister Christie and my brothers David and Marston, and all of us at Playboy Enterprises.
Born Hugh Marston Hefner in Chicago in 1926, Hefner changed the cultural landscape when he founded Playboy in 1953.
The first issue, which featured a nude image of blonde bombshell Marilyn Monroe, was a smash success. The magazine rocketed Hefner to fame, and he launched the media and lifestyle company associated with it, Playboy Enterprises, the same year. Hefner served as a board member for the company until his death.
Hefner's Playboy was an aspirational lifestyle magazine that shook up conventions of the era by focusing more on indoor pursuits than those of the outdoors, per Vanity Fair. In the magazine's first issue, Hefner wrote,
We enjoy mixing up cocktails and an hors d'oeuvre or two, putting a little mood music on the phonograph, and inviting in a female acquaintance for a quiet discussion on Picasso, Nietzsche, jazz, sex.
The magazine, and Hefner himself, was also a significant presence in the sexual and cultural revolution of the 1960s. Hefner helped fund court cases in support of women's right to use birth control, and advocated for women's rights, including abortion. His stances were not uncontroversial: Hefner was often criticized for the dissonance of espousing feminist ideals while objectifying women in his magazine, as well as sexist or patriarchal content.
He also pushed boundaries of the era regarding race. Hefner booked Black entertainers at his members-only Playboy clubs during a time when segregation laws were still in effect, and promoted Black women in the pages (and covers) of his magazine, years and sometimes even decades before they were highlighted in other publications. And in his later years he supported new issues of equality, including LGBTQ+ rights: in a 2012 editorial in Playboy, he called the push for marriage equality "a fight for all our rights."
But in the public imagination, Hefner himself embodied the aspirational image created by his magazine.
Often photographed in a luxurious silk bathrobe and pajamas, smoking a pipe, Hefner became a pop culture icon and a symbol of smooth bachelorhood, even as he professed himself a romantic in his personal life. In a 2011 interview with The Independent, Hefner said that "being in love completes [him]."
Hefner met his first wife, Mildred Williams, while attending Northwestern University. The couple were married for ten years, and had two children, Christie and David. Hefner would go on to marry twice more: in 1989, he wed that year's Playboy Playmate of the Year, Kimberley Conrad. The pair were married until 2010, and had two children, Marston and Cooper. In 2012, Hefner married his third wife, Crystal Harris, who he would remain married to until his death.
He told The Hollywood Reporter in 2011, "In my wildest dreams, I could not have imagined a sweeter life."
Hefner is survived by his wife, Crystal, and his four adult children.