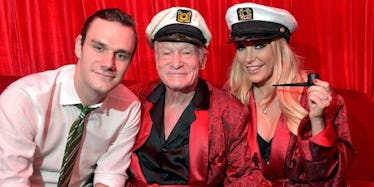 Here's What Will Happen To Playboy After The Death Of Hugh Hefner
Charley Gallay/ Getty Images
It's true: founder of Playboy Magazine Hugh Hefner has died at 91 years old on Wednesday, Sept. 27. The legendary resident of the Playboy Mansion passed away from natural causes inside his Los Angeles home surrounded by loved ones, People reports. Hefner left behind an unforgettable legacy and a groundbreaking business that won't soon be forgotten. In fact, we can't help but wonder what will happen to Playboy -- the magazine and the mansion -- now that Hugh is no longer with us.
First, let's rewind a bit. Hugh Hefner was born in Chicago in 1926, and pushed some serious boundaries in 1953 when he founded Playboy. According to People, Hefner thought of the magazine idea while working in the publishing industry after attending college and serving in the Army. The first Playboy publication that launched his career featured a nude Marilyn Monroe, and the same year, Hefner launched Playboy Enterprises Inc. The rest is bunny-eared history, folks. Hefner remained a board member of Playboy Enterprises until he died.
Elite Daily reached out to Playboy Enterprises but did not hear back by the time of publication.
With that being said, Hugh Hefner did not own Playboy Enterprises Inc. before his death -- he was simply a board member of the company. According to Forbes, he was basically de-throned in 2011 when Playboy Enterprises Inc. announced a "limited partnership controlled by Hugh M. Hefner," which gave him full editorial control of the magazine but made him essentially the new junior partner to Icon Acquisition Holdings LP. Apparently, Hefner's new employment agreement post-acquisition said he could continue living in the Playboy Mansion for a "nominal rent" in addition to having editorial control. Other responsibilities Hefner was granted under his new contract also included the right to approve Playboy Bunnies' images and Playboy casino designs.
So, if Hugh didn't own Playboy Enterprises Inc., then who did? And more importantly, who does now? Well, while Hefner carried on his tasks under Playboy's new partnership, the CEO changed a few times. According to a press release, Scott Flanders became CEO in 2009. However, he was followed by Ben Kohn who filled his shoes at Interim CEO in 2016. Kohn was previously the Managing Partner at Rizvi Traverse, which is an equity firm that holds a majority of Playboy's stake.
Playboy Enterprises said in a 2016 statement,
Scott and his team have done a remarkable job of transforming Playboy into a modern global lifestyle brand. I have personally enjoyed working closely with him over the last five years through taking the company private, building our global products licensing division and expanding our media and entertainment business. Scott has expressed his desire to return to the helm of a public company and this is an incredible opportunity for him.  We wish him well in this new endeavor and as he remains a board member and stakeholder in Playboy, I look forward to continuing to work closely with him as we make this transition.
Apparently, Playboy Enterprises is also a business that runs in his family. Hefner's son, 26-year-old Cooper Hefner, is currently the Chief Creative Officer. Cooper Hefner addressed his father's death with a statement to the media, and said,
My father lived an exceptional and impactful life as a media and cultural pioneer and a leading voice behind some of the most significant social and cultural movements of our time in advocating free speech, civil rights and sexual freedom. He defined a lifestyle and ethos that lie at the heart of the Playboy brand, one of the most recognizable and enduring in history. He will be greatly missed by many, including his wife Crystal, my sister Christie and my brothers David and Marston, and all of us at Playboy Enterprises.
With that being said, one can assume Playboy Enterprises will continue running the company. However, Elite Daily reached out to the team for comment.
So, I know you're probably still wondering one thing: What's going to happen to the Playboy Mansion? Well, surprisingly, Hefner's humble abode was sold in 2016 to his billionaire neighbor, Daren Metropoulos. Metropoulos is currently the owner of Twinkies and previous owner of PBR -- and now, he owns the infamous Playboy Mansion, too.
According to The Guardian, Hefner asked $200 million for the mansion and would sell it under one condition: if he could live there until he died. Apparently, a deal was made that once Hefner passed away, Metropoulos could move in.
Sadly, this time has come. Now, only time will tell if Metropoulos will make the move from his $18 million mansion next door to Hefner's 29-room pornographic paradise.