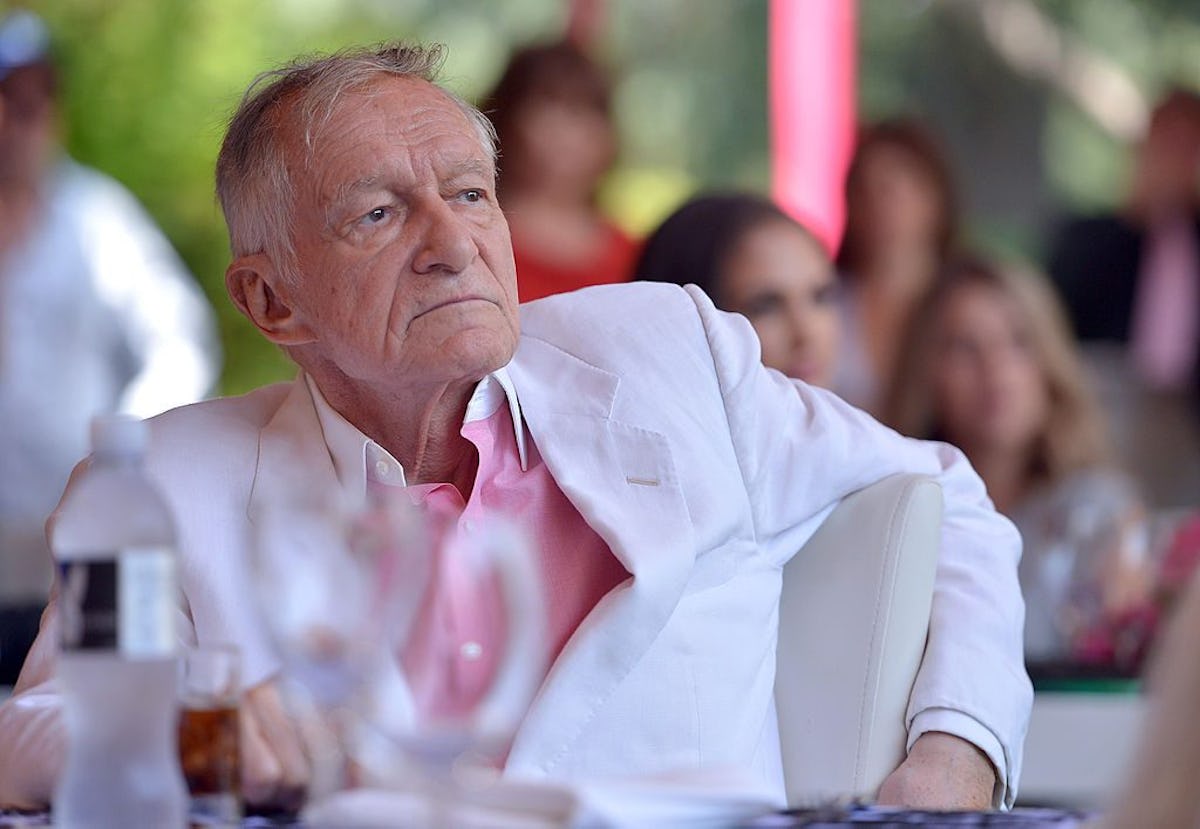 These Moving And Funny Tweets About Hugh Hefner Show His Death Has Impacted Many
Charley Gallay/ Getty Images
On Wednesday evening, it was reported that the founder and editor-in-chief of Playboy magazine Hugh Hefner had died at the age of 91. His death was confirmed by reps at Playboy Enterprises who also attributed it to natural causes. Shortly after news of his passing broke, tweets about Hugh Hefner started rolling in, both to mourn his loss and also to celebrate his life. He leaves behind four children and his wife, Crystal Harris. He was married twice before.
While some people may turn up their noses at the E! Girls Next Door reality star based on superficial perceptions alone, it's also important to note Hefner's legacy in both his devotion to the literary greats as well as his early contributions to the feminist movement. Regardless of where you land on whether the women featured in his magazine are empowered or exploited, it's indisputable that his early publishing of female activist essays was a huge platform for women, in particular feminists, to speak their mind.
Hugh Hefner first opened the pages of Playboy magazine to the general public in 1953 with Marilyn Monroe as its first nude centerfold. In an editorial from that first issue, Hefner summed up the ethos of the publication and the spirit of his readership: "We enjoy mixing up cocktails and an hors d'oeuvre or two, putting a little mood music on the phonograph and inviting in a female acquaintance for a quiet discussion on Picasso, Nietzsche, jazz, sex."
Hefner's ultimate mission with the magazine was to be "the high art of low art," and in so many ways he succeeded. In the pages of Playboy, between what were often tongue-in-cheek editorials with nude spreads, were some of the greatest authors of our time: Gabriel Garcia Marquez, Kurt Vonnegut, Jack Kerouac, Haruki Murakami, Vladimir Nabokov, Joseph Heller, Roald Dahl, Ian Fleming, Margaret Atwood, Normal Mailer, Ray Bradbury, F. Scott Fitzgerald – just to name a few heavy hitters. Even if it was all punctuated by various nude photoshoots, the pages of Playboy were deeply intellectual and often very politically active, making it a complex publication run by a complex man.
Hugh Hefner has received his fair share of criticism, which range the gamut and much of which is, well,  fair. The Playboy aesthetic in many ways is a very literal depiction of the male gaze. It's easy to look at photos of Hefner in his iconic red smoking robe and not feel a certain type of way about him. I mean really, look at it. His politics both in Playboy and his actions in real life have had people divided for decades. But he's a household name any which way you shake it.
It's clear that both Hugh Hefner's life and death had a huge impact on so many people.
The outpour of emotions was immediately evidenced all over social media. Even those who may not have been his biggest fans are paying their respects. Even his harshest critics can't deny the indelible mark Hugh Hefner has left on the world. In his 91 years, Hefner accomplished an extraordinary amount. He was a father, husband, entrepreneur, intellectual, and a self-proclaimed (and proven many times over) hedonist. He will be remembered.
The reactions on Twitter vary in their tone and delivery, whether they be prayers, quotes, memes, or jokes, but they all come from the same place: a celebration of Hugh Hefner's life and a mourning of his death.
There are a ton of Hefner's inspirational quotes.
There were also some tasteful (and some less tasteful) jokes.
Many just mourned his death the old-fashioned way.
It was clear he was a man who lived life deeply.
RIP Hugh. You'll be missed.